A presentation was made today unveiling
Hossoland
, a major new theme park to be built in Brojce, Poland. They're planning to use a 40-hectare site, divided into 4 lands containing 50 attractions, and be open for as soon as Spring 2024. They're hoping to draw around 1 million guests annually, which shouldn't be too hard considering that Energylandia is nearly 7 hours away.
Fortunately, Hossoland is no Storyville Gardens or London Resort, as they've come a long way since development began in 2017. The main investor is Hosso Holding, best known for developing shopping centers and who have financial backing secured. They also have Daniel Heinst on board, a man best known for steering forwards other Polish park projects such as Legendia, Majaland Kownaty, and Mandoria. Jora Vision has been heavily involved in park design. Land has been cleared and ready for construction.
On the rides side, Vekoma allegedly had reps on hand at the presentation with Mack Rides and WhiteWater West also involved to a considerable extent. You can already make out an STC and a water coaster in the concept artwork. I would anticipate that we may hear more at IAAPA next week. Can't wait to hear more about this!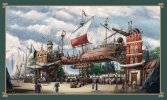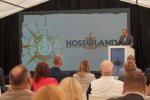 Hossoland w zachodniopomorskim. 7 września br., podpisano akt erekcyjny oraz wmurowano kamień węgielny pod budowę tego obiektu.
infoludek.pl
https://www.facebook.com/fomocoaste...uhUx1SLXj8aEGLCZbrnz4KCqHhznA91g1c6p8Q1J3cDql
https://www.looopings.nl/weblog/206...ier-themagebieden-met-vijftig-attracties.html
NIP 8513206892 | KRS 0000673582 | REGON 367051556 | Firma znajdująca się pod adresem ul. MAŁA ODRZAŃSKA 19 w miejscowości SZCZECIN. Główna działalność firmy Działalność wesołych miasteczek i parków rozrywki
krs-pobierz.pl
Last edited: