Japan has an interesting history of hosting huge world and local expositions over the years. Many of which hosted small amusement parks with coasters. It's something we did in the UK way back at the start of the 20th century with numerous Scenic Railway type rides going from those Expos to various parks around the country.
Japan had a history of this as well but like the UK this was stopped during the wars. However where we kind of ditched the Expo thing post war the Japanese took it into another gear throughout the 80s and 90s with a crap ton of Expos almost all of which debuted new coasters.
While we know about many of these there are plenty that have flown under the radar I've been doing a fair bit of research for the RCDB this week trying to clear up some of these missing Japanese Expo's and link coasters that came from them to their current locations.
And since I'm doing that a post about some of the more interesting ones seemed appropriate.
Japan World Expo - 1970 - Osaka
Without a doubt the most famous of the Expo's amongst us coaster lot was the Expo in Osaka in 1970. Running between March and September 1970 the expo had a truely colossal visitor count of over 64 million visitors.
But why is this expo so well known? well because it opened with Daidarasaurus an enormous jet coaster with 5 (Yes 5) racing tracks.

The coaster lived on when the park area became Expoland which survived all the way up to 2007 and housed the B&M Raptor clone Orochi.

Daidarasaurus

may have lived on but it did lose the 3 shorter tracks while eventually the 2 larger ones were combined into what was at the time the worlds longest coaster.

International Flower and Greenery Expo - 1990 - Osak

a

Perhaps the most interesting of these coasters from an enthusiast perspective came from this expo again held in Osaka but this time between April and September 1990 in Osaka.

The expos signiture ride was the Togo Strandup racing coaster now known as

Milky Way

at Mitsui Greenland. At the Expo it was known as Wind God Thor and both sides featured Stand Up trains, Later on Mitsui Greenland converted the pink side to sitdown trains. According to the photo below there was a Giant bannana sculpture within the rides helix's
The expo was a huge success recording over 23 million visitors in just 6 months. While just a 3rd of the earlier 1970 expo its still a positively insane amount which to put into context is more than Florida's Magic Kingdom gets in a year.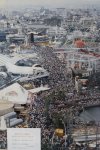 Yokohama Exotic Showcase (YES) - 1989 - Yokohama
Going back just a year there was an expo in Yokohama that was one of the one's i dug up yesterday. The expo was held from March till October and had a more modest 13.3million visitors. Which is still mighty impressive,
This overview of the park section of the expo shows 2 coasters which the very eagle eyed among you may recognise.

The smaller coaster on the right was known as Space Coaster
This ride is now more well known
Boogie Woogie Space Coaster
at Space World which closed in 2017.
The second larger coaster was known as Cosmic Express also got moved and still operates today at Kezouji Park, still known as
Cosmic Express
the ride seems to have moved with the Expo's log flume
As a side note, the Expo's giant Ferris Wheen (not seen in the image above) now operates at Yokohoma Cosmoworld with Diving Coaster Vanish wrapping around it.
Asia Pacific Expo - Fukuoka - 1989
The same year there was another Expo in Fukuoka called the Asia Pacific Expo, An all together smaller expo it ran from March to September and attracted a still respectable 8.2million visitors. The park had one coaster and unusually for these ride I haven't as of yet pinned down where the ride ended up, if it ended up anywhere at all.
The coaster was a Senyo design and was called Giant Camel Coaster with a height of 27m (89ft)
The parks iconic central tower still exists to this day in Fukuoka
World Food Expo - 1988 - Sapporo
A year before that was this much smaller expo in Sapporo in the north of Japan which was one of the few to lose money. Known locally as Juno 88 it ran from June to October in 1988 and the expo only attracted 1.7 million people. It was considered a huge failure. But from an enthusiast point of view it contained one unique coaster.
The amusement zone included the legendry Togo
Ultra Twister
with a dive loop now found at Rusutsu Resort. Unfortunatly pictures of the actual ride at the expo seem to be pretty much non existant but its cool to know this ride also came from an expo.
Interestingly the Expo was positioned on the exact same site as the 1982 World Food Expo which also featured a coaster
One of the larger models of Meisho built shuttle models, And where did this one end up? Well perhaps fittingly its along side Ultra Twister and is now known as
Loop The Loop
also at Rusutsu Resort.
Otaru Expo - 1984 - Otaru
Jumping over to 1984 for reasons that will shortly become apparent. This smaller expo in the city of Otaru only ran for 3 months from June to August but still managed 1.6m visitors.
The coaster here was a Togo Stand Up coaster that once again moved to a park.
No guesses what that park was, Yup it can be found along side Ultra Twister and Loop The Loop and now resides as
Standing Coaster
at Rusutsu resort as well
Seems that park in particular benifited from these expos hoovering up 3 from various expos in the 80s.
Kobe Port Island Expo - 1981 - Kobe
This one is perhaps more well known. But stands out for being an expo with a Schwarzkopf coaster. Running from March to September in 1981 the expo managed a fairly enormous 16.1million visitors and featured a looping coaster known as Double Loop.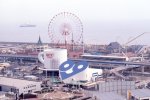 The park section of the expo of course stayed around and became the infamous Kobe Portopialand,
Double Loop
stayed and was eventually joined by BMRX which eventually became Camelots Knightmare. As well as a Mack Bobsled which despite the dates on the RCDB appears to have opened when the park became seperate after the expo.
21st Century Exhibition - 1979 - Setouchi
An interesting coaster at an expo was found at this smaller expo that ran from March to June in 1979. The expo only attracted 1.3million visitors but featured one of Japan's first inverting coasters. Jet Spiral was an Meisho design and a clone of the recently defunct
Thunder Coaster
at Nasu Highlands which opened the same year.
The ride went on to have a decent life at Kibinokyo Wonderland as
Jet Spiral
eventually closing in 1996.
Japan Expo - 1992 - Toyama
As time went on the coasters at Expo's seem to have become less important. This one ran from July to September in 1992 and garnered a still impressive 2.3million visitors.
It coaster though was tiny compared to previous expos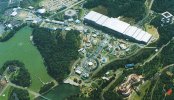 Seen on the right hand side of the image the coaster did find a home after the expo and still runs to this day at Hachinohe Park as
Jet Coaster
.
Okinawa World Expo - 1975 - Okinawa
Jumping way back in time to one of the earlier examples of an expo coaster we have this Jet Coaster which i believe was a very early Senyo design. Once the expo closed the amusement land stayed as a park called Expoland lasting right up until 2000 when the park closed down. The photos below are from the park rather than the Expo but its interesting to see such an early coaster last right up to the 21st century.
That's it for now. I have an absolute ton of these to get through but have just run out of time at the moment. A mans gotta eat.
So will post some more when i get a chance.
Last edited: