Having ummed and ahhed for a while, finally bit the bullet and booked up flights to Euroairport before spending hour after hour trying to figure out how best to approach getting to Europa Park. For this, the DB Navigator app and the
Bahn website
was an absolute god send. You can skip this paragraph tbh it'll be more boring than the rest of the report but I figured it may come in handy if anybody else flies in to Euroairport. The journey we ended doing involved; BVB Bus 50 from the airport to
Basel SBB
station (4.40 Swiss Francs a ticket from a ticket machine outside the airport, can pay on card), then from there it's an ICE train to
Freiburg (Breisgau) Hbf
(couldn't for the life of us find the right Freiburg on their ticket machines so had to go ask for assistance, they had no clue either until I showed them a screenshot I'd thankfully taken of the route and pointed out the specific station), a RE train to
Ringsheim
, and then a local bus to Europa Park/Rust. The DB app not only has live train timetables but also factors in delays instantly too, more of which later.
Anyway, even after getting a 7am flight we didn't get to Ringsheim until early afternoon, at which point the bus to Europa was running at 90 minute intervals I believe and we'd not long missed one. A couple of people sat in this tiny German village in the middle of nowhere decided to start walking towards the park. We were content to sit it out and wait but as a taxi pulled up, some bloke started shouting at us in German and after figuring out he was offering us to get in too, we hopped in. 17 euros to get to the Europa Park hotels (I may not bring the puns but I bring the information
), and a short walk up into Rust and we were at our hotel. We stayed at the Apollon, I think it's the same one recommended from the last Europa report on here, we couldn't fault it. 300 euros for bed and breakfast for 3 nights for 2 of us, much cheaper than the on site hotels were. Also offered a 1 euro transfer to the park entrance each morning but we fancied the walk.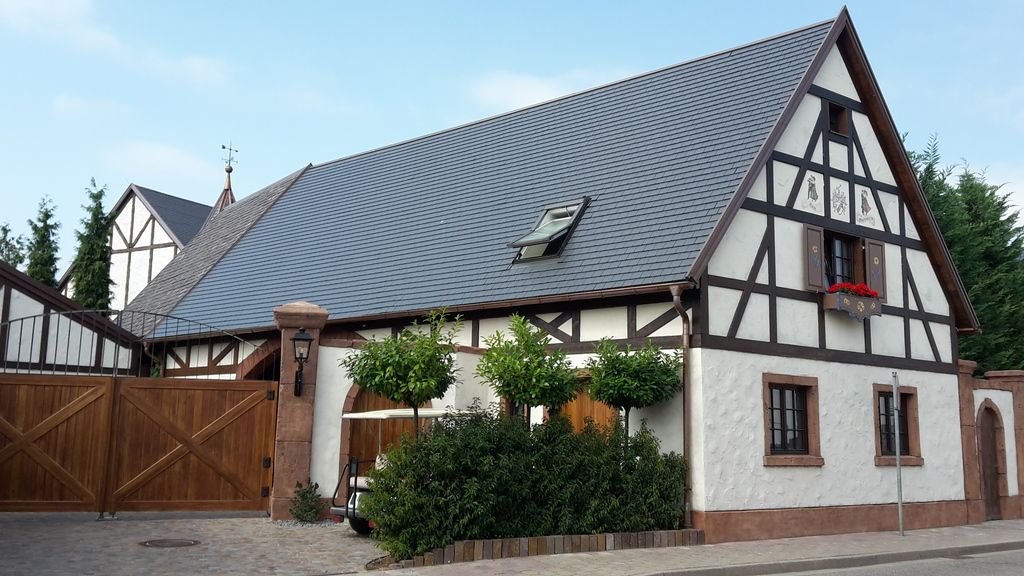 Lovely little village was Rust.
Reet, Europa. The main entrance looks a bit worn if I'm honest, but once in the park the main alley is all decked out for Halloween with pumpkins all over the place (a theme that continues), everything is well presented and it's just a nice place to be. I honestly can't remember what order I did things over the 2 and a half days so I'll just whack some general thoughts in here mixed with some nice pictures and some **** ones I took on my povvo phone.
Coasters
Silver Star - Intimidating lift, stunning first drop, towards the back your arse doesn't touch the seat for half the ride, and the last couple of sharp bends are a great finale to the ride. Thoroughly enjoyed it, although the turnaround has absolutely nothing on Shambhala's ampersand. Also quite difficult to take any decent pictures of it given it goes out over the car park away from the park.
Blue Fire - Sponsored by Gazprom. Who also sponsor the Champions League coverage. And also have a fan shop that the queue winds through. Because everybody gets the urge to go out and buy some gas, right? Anyway, I love how the queue runs paralel to the launch, makes for some great pictures even if off-ride the launch looks rather sluggish;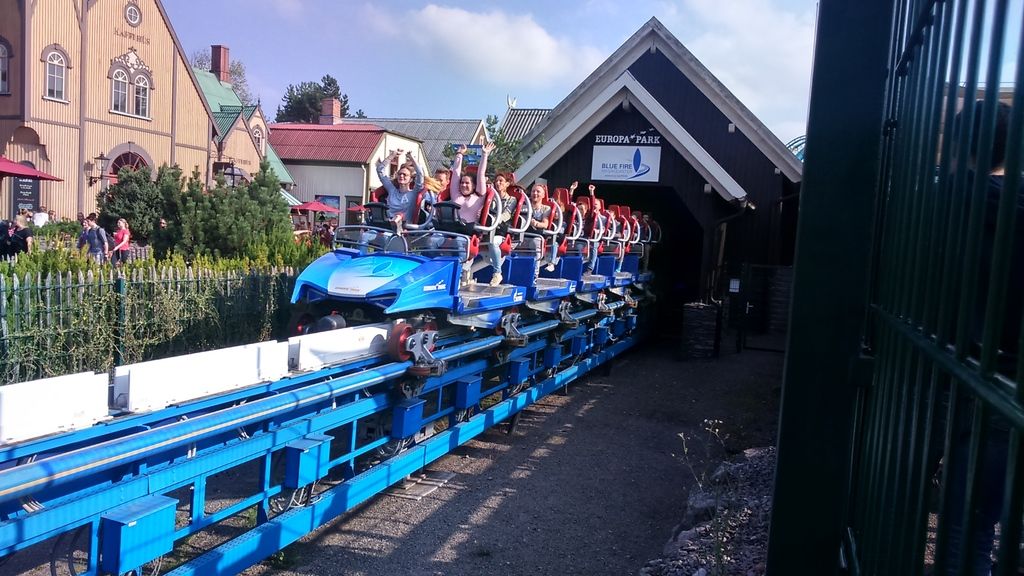 Really, really good ride, feel the launch needs to be a bit stronger just because towards the front of the train the ride stalls a bit on the first element, but it's a lot more powerful than it looks off-ride. The loop is great, the airtime hills are fun and the slow inline before the camera has some decent hangtime.
Eurosat - Worst. ****. Ride. Ever. Like, the lift goes on for ever (and if you don't see the ride layout before hand you have no idea of the size of the thing) and it's in the pitch black, it's extremely quick and jerks left to right sharply. Just. Pain, so much pain.
Euromir - Again, underestimate just how high this ride feels, the spinning sections are good, the big drop is quite quick and the last few tight turns are decent. Solid ride.
Matterhorn Blitz - Interesting lift concept, had no idea about it so was a bit taken aback at first. The ride itself has a couple of decent drops that pack a punch but the wild mouse bit is a bit flat.
Arthur - Absolutely brilliant ride experience. I'm a fan of the entire Arthur dome, but not necessarily within this park given it doesn't fit at all, but the quality of the whole area is outstanding and the whole Arthur coaster experience is great. Not quite sure about the part where the music breaks up into Dr Dre and Snoop Dogg rapping, complete with expletives, for a childrens ride but yeah, it's a great little thing.
Ba-a-a Express - Are sheep an Irish thing? The empty potato sack theming made sense, the coaster itself is really the only small coaster the park has, pretty much a +1 and nothing more.
Pegasus (+ Coastiality) - Not sure off the top of my head but feels similar if not identical to the Wile E Coyote coaster at Parque Warner Madrid. Extremely smooth, fun layout, good little coaster. Proper tucked away in the back corner of the park though. Was our first experience of VR afterwards, 2 euro upcharge, went in with extremely low expectations given what I'd read on here. Honestly, thought it was amazing. The whole vr bit was extremely well done, no glitches or anything, the video linked up with different parts of the ride perfectly, I'd almost say I preferred it with the VR.
Poseidon - Had heard this was a bit rough and indeed it was a bit rickety side to side but it was surprisingly better than I expected with two decent water splashes and the final bunny hop had a great little pop to it. Also one of the more photogenic rides at the park.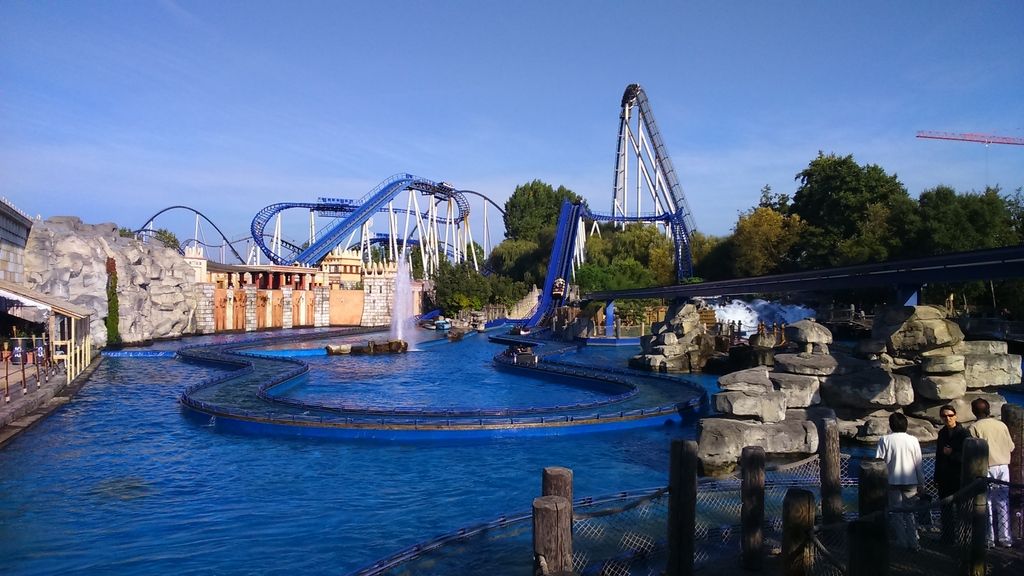 Wodan - Still finding it impossible to figure out this ride some days after last riding it. Our first ride I just didn't get what it's supposed to do, it was quick, it flew side to side and then just sort of ended abruptly but there was no airtime, it just felt a bit flat. On our second ride towards the back of the train it was a lot quicker, threw us out of our seats a bit more, yet wasn't painful in doing so, felt out of control, but again I'm just not sure if that's what I enjoy on a coaster. That said, the only woodie I've actually enjoyed is Balder and that's because it offers nothing but airtime. Visually impressive ride though that makes an absolute racket;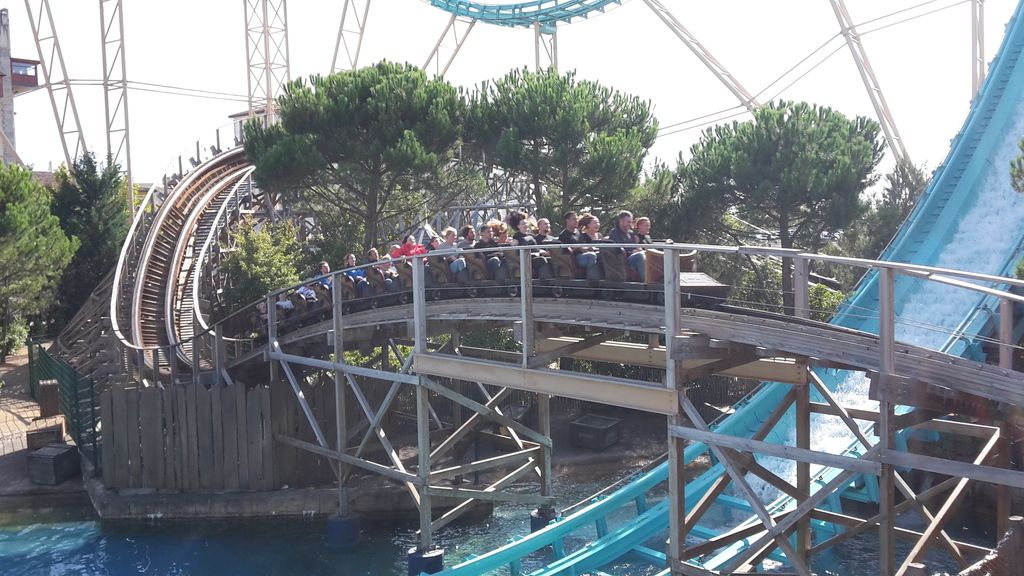 Atlantica Supersplash - Another photogenic ride and one that many people stopped to watch as they passed by. The reverse drop just seems like a bit of a novelty to justify the turntables, but the main drop is huge and again, the bunny hop is really fun.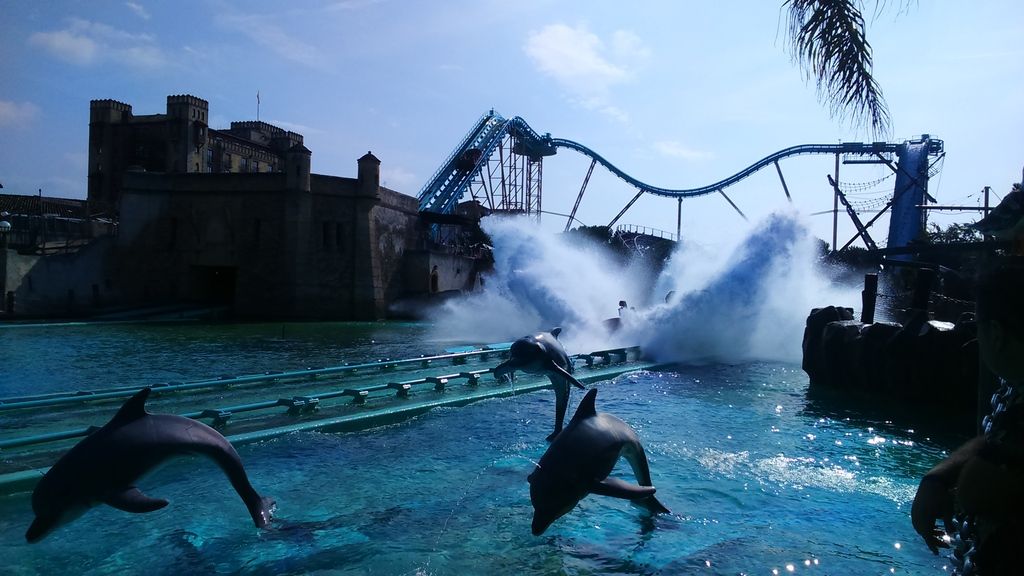 Alpenexpressen - Alright powered coaster. Didn't try the VR/Coastiality on it. Always had a 20 minute plus queue.
Schweizer Bobbahn - Boring bobsled. Nothing more.
Other Rides
We rode pretty much everything we came across that we hadn't done on our last day, some of which were just carriage rides with animatronics (Piccolo Mondo was full of every Italian stereotype imaginable, Ghost Castle was full of horror models) but most impressively every single little detail was working, a nice change from some of the other parks I've visited. Of the other rides of note;
World of Diamonds - Great little walkthrough that takes you into a 'diamond mine', where you can interact with both the log flume and Alpenexpress as they pass through the same area. Would have completely missed this is somebody over on TST hadn't suggested it.
Columbus Boats - Basically a spinning boat/waltzer type ride where you can actually spin the boats yourself.
Dome of Dreams - Really strange/interesting experience, basically just go into a massive dome, lay on some beanbags and watch a projection about Europe on underside of the domed roof.
Euro-tower - Decent observation tower that rotates several times at the top allowing for some great views and pictures, slightly blurred by the scratched glass.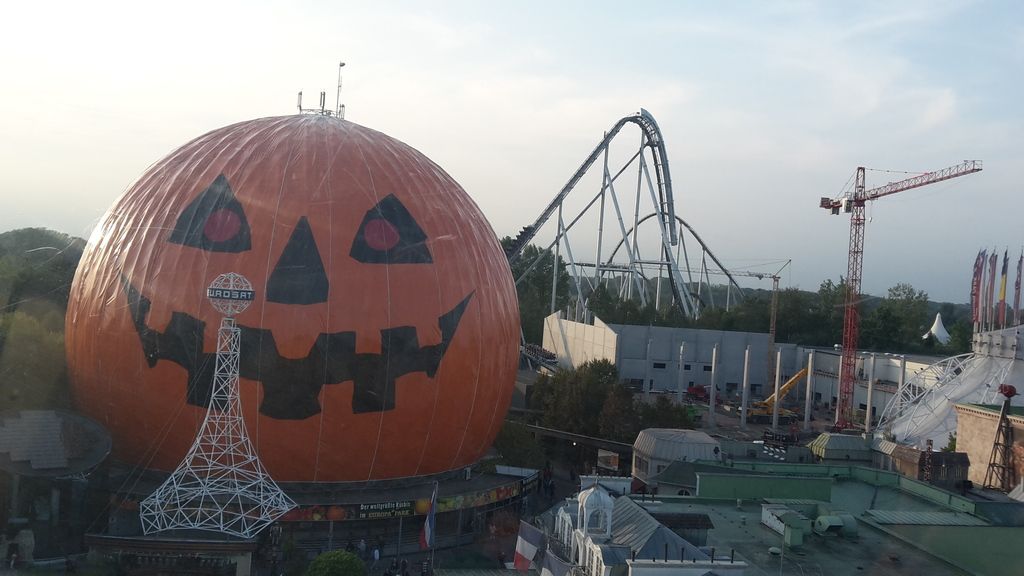 Monorail, EP Monorail, Panorama Train - The smaller monorail is a bit pointless really, only has two stations and they're not even that far apart, but it takes a long winded route to get there. Offers alright views over the back end of the park though. The EP Monorail is mainly of use for the hotel guests as it'll take you up to the top of the park by the main entrance. The train is probably best for getting around with 4 stations spread evenly around the park.
Laser Maze (I think this was called the Queens diamonds or something) - Basically a self-service attraction, wait until the light outside goes green, then run in, try and get through the building asap without setting off any lasers, with a screen at the start and finish tracking your progress. Mainly a laugh when you get to the finish and can watch the CCTV inside and see how those behind you get on.
Tirol Logs - Very good log flume, if not a bit short. Two decent sized drops with the middle bit going through the diamond maze and interacting with both the Alpenexpressen and train.
Fjord Rafting - Probably the best river rapids ride I've been on, some serious rapids mixed with various different interactive water splashes for passers by to set off. Often built up big crowds of people around the ride to watch as people set off triggers.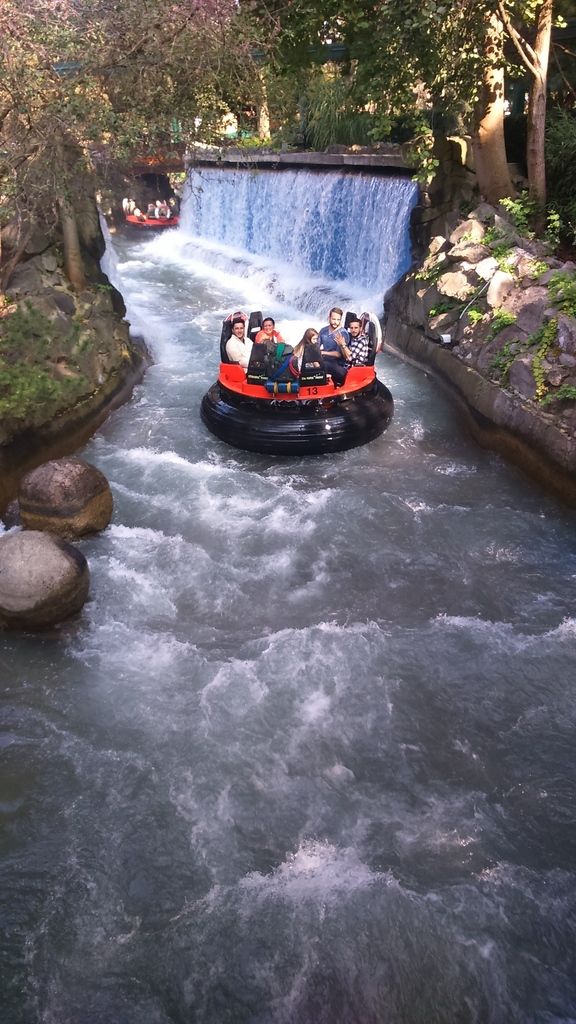 Cassandra's Curse - Basically just one of those spinning room rides with no actual pre-story or explanation to it.
Historama Museum - Decent little side show movie explaining the history of Europa Park via a spinning room and several projections., with the queue line being a mini-museum.
There's loads I'm forgetting the names of including a few of the water boat rides and tea cups etc...but they're all by the by, nothing special just offering nice views. More importantly, they were easy ways to get some km's on Pokemon
Food
Or more importantly. FOOD LOOP. Had never planned to eat here and on the first day with queues out the door we ended up just ordering a hot dog from one of the thousands of food outlets (seriously, there's hundreds), but decided with no queues to try it out the next day and thought it was brilliant. Ridiculously easy to order, we had our food within 10 minutes and it was cheaper than any of the other sit down restaurants in the park, 10 euros for a meal with a drink.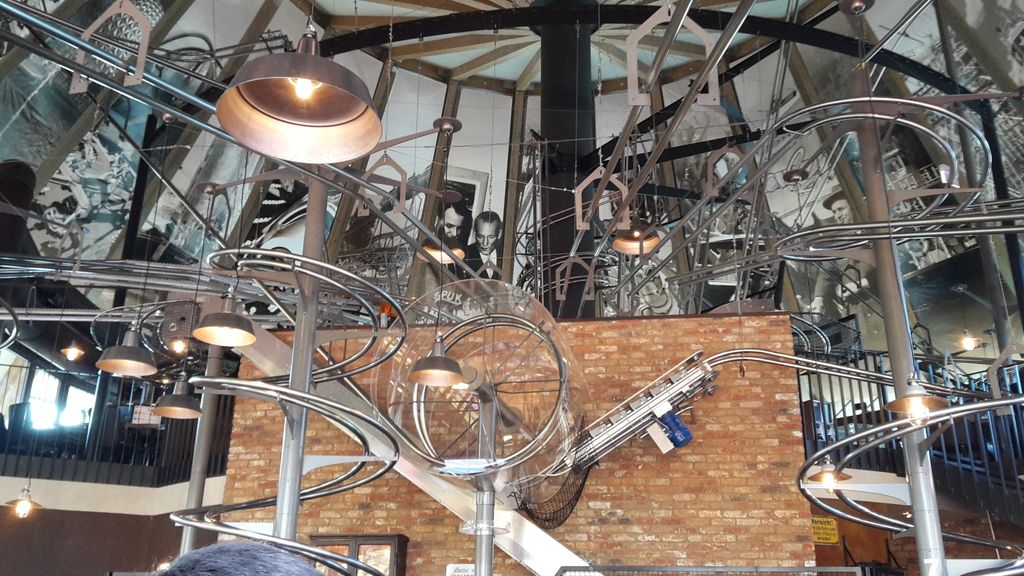 Halloween
Didn't actually realise at the time we booked to go that the park would be decorated for Halloween, and having done Port Aventura during their celebrations I had high expectations here, even if we would only be visiting during day time. The park looked amazing throughout, the most obvious decoration being the giant **** pumpkin covering for Eurosat. I'd seen on some map somewhere that they have 180'000 pumpkins decorating the park and, given the size of it and how thoroughly they're spread, it's no surprise;
Also, on our last day they did their first Halloween parade an hour before the park closed. At night I can imagine this would look amazing, although it was still impressive during the day. Loads of live actors who throughout the day roam the park all on various floats from various areas riding down near the Historama Museum on their various floats.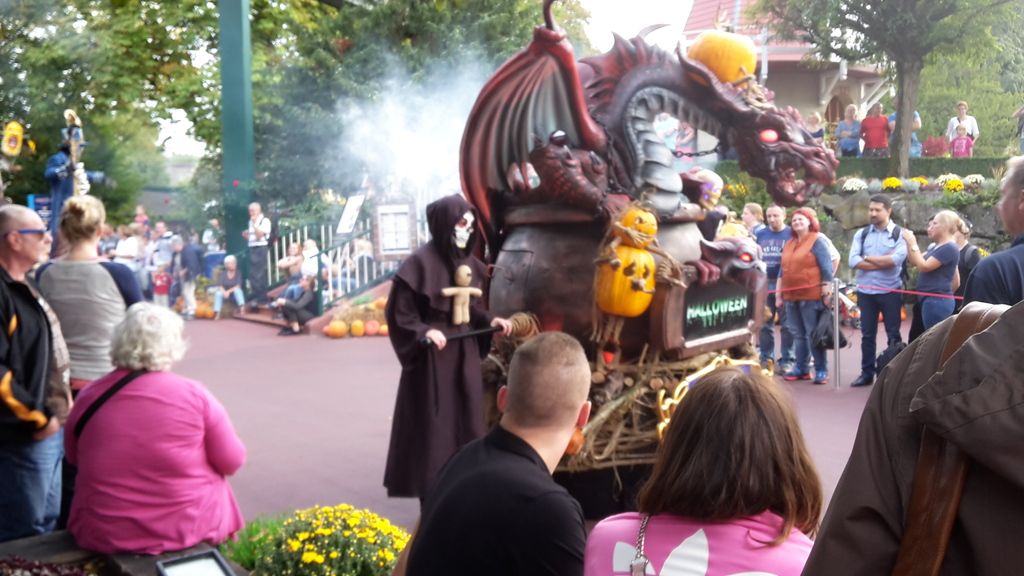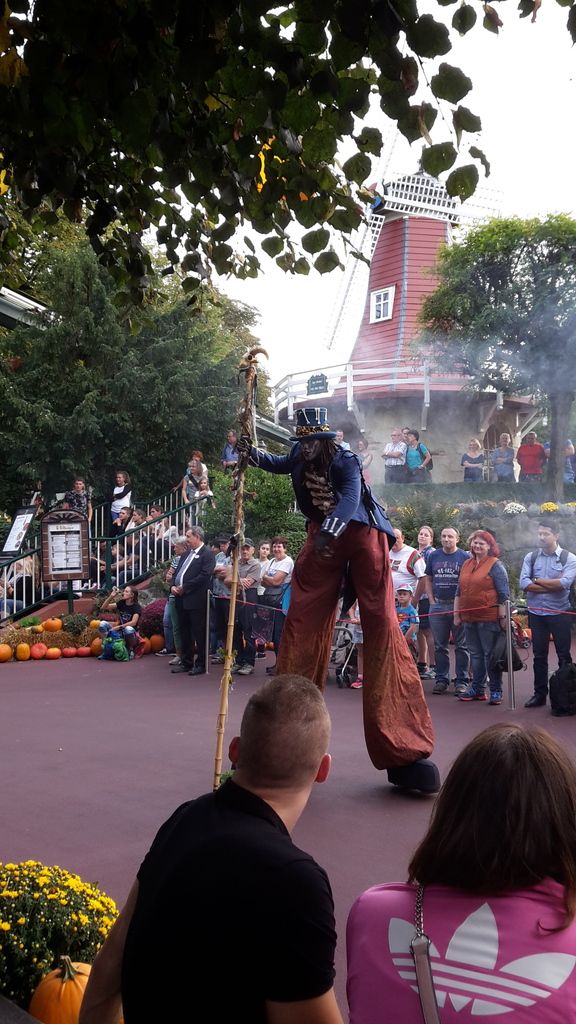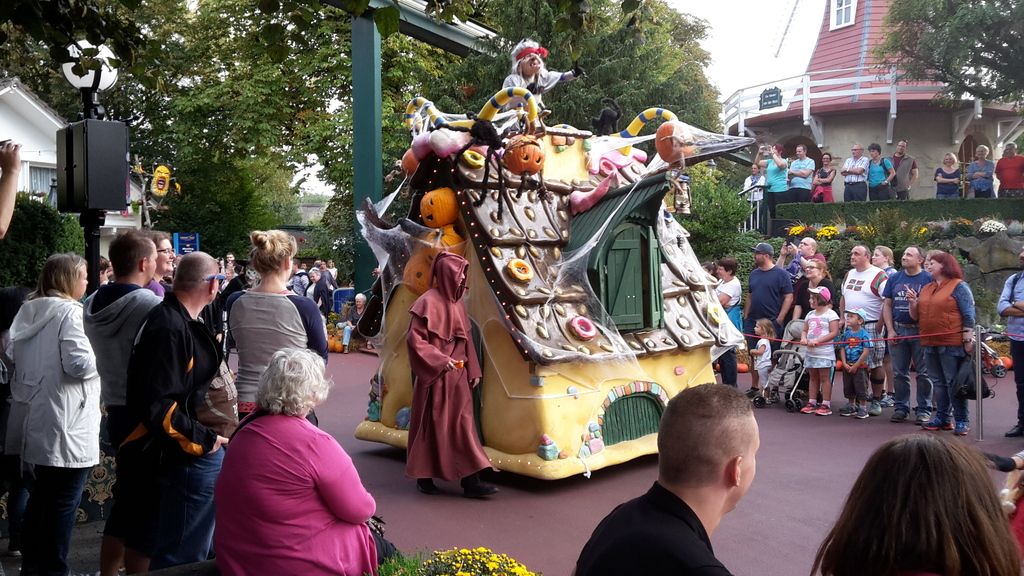 Also, given it was our last day at the park and we knew the halloween parade would be in the evening, we decided to get into character and got this done;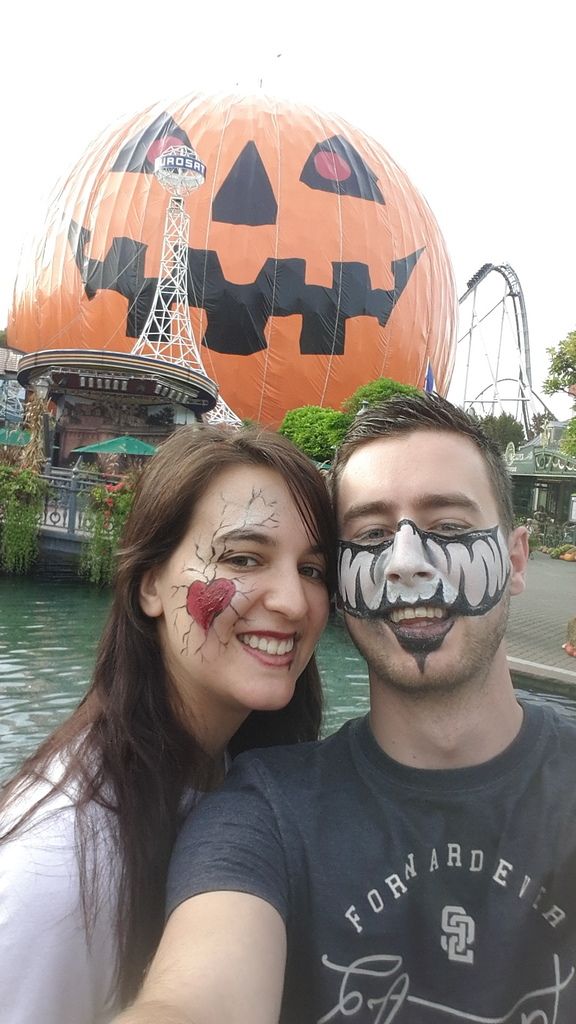 Which at first was a laugh, but then became really impractical in 25 degree's heat and by the end of the day left me in particular looking like a greasy KISS fanboy. Few more pictures, we went to the hotel's one evening to make use of the bars and have a wander but as there was football on it was rammed, still makes for some great pictures though;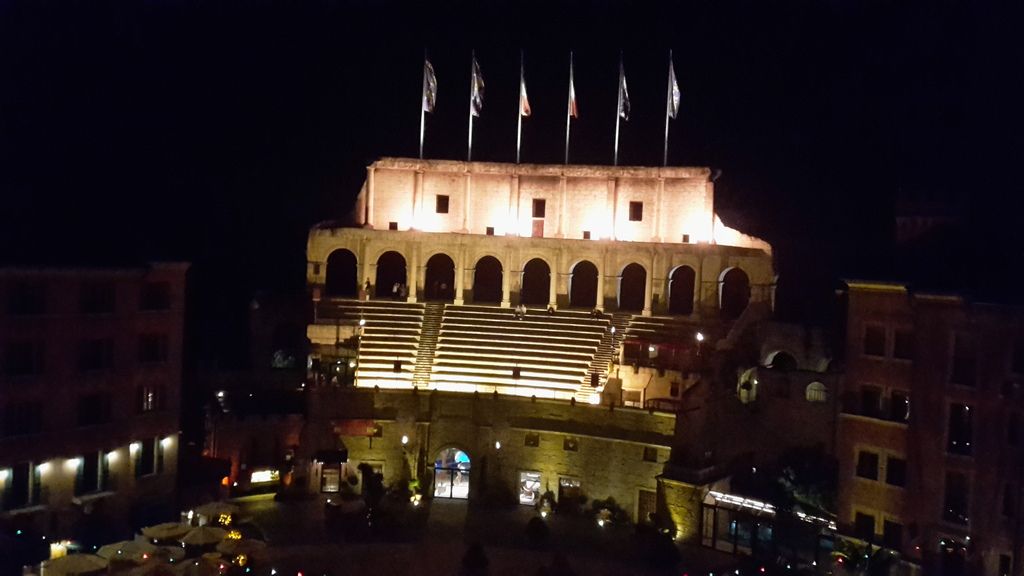 We caught a couple of shows whilst there, the black knight had also been recommended by someone on TST, it was alright for what it was, Katie enjoyed it but I'm not really a big fan of shows so meh.
Also had to watch the Surp'ice at the Ghost Hotel which was an ice skating show (No wonder Amanda Thompson loves the Macks!) with an extremely vague story and yeah, I don't like ice skating at all so was thoroughly bored but the production was good and again Katie enjoyed it. Both were popular too with relatively full audiences.
Overall, the park is ridiculous, in a very good way. The sheer size of it took me aback, it's definitely not the sort of park you can whore rides out and build up a huge ride count but then, with the sheer quantity of stuff to do you really don't need to. All of the staff were friendly and helpful, nearly all of them spoke English which was a god send at times. Had heard good things about the operations at Europa but even with high expectations, seeing them in action was surreal, the efficiency and how quickly the queues were swallowed up was impressive. Think the longest we queued was 20 minutes for Silver Star and that as at the end of the day when everyone was heading back that way and even then, we were never stood still as the queue was always moving. I wasn't a fan of the new Ireland area, it feels like it's lacking something for a childrens area and couldn't help but laugh at the Dancing Dingie ride being named the Titantic and dressed up as Dublin dockyard. The Arthur area too is brilliant in terms of themeing and atmosphere but just doesn't fit in amongst the park at all, all these different themed European areas and then just a cartoon character tacked on at the side? Also, both of those areas have the front facade's decorated really well with a castle and green mounds respectively but as soon as you get either side or above this on various rides the plain green cladding shows through and looks proper Merlinesque half hearted.
Our journey back was a bit of a naff way to spend my birthday too, we managed to catch our connection from Freiburg to Basel SBB by a minute, having to sprint between platforms and order tickets on my phone (hence why the app was a god send), Basel Euroairport is **** stupid and actually has certain gates where once you pass passport control has no toilets, smoking facilities or food places. Typical that Ryanair now announce they'll start flying to Strasbourg as of next year again meaning it'd be far easier to get to and from the park.
And if you're made it this far through this wall of text, here's your reward, some ORP's that only cost 6 bloody euros, DVD's were only 12 euros, **** hell for a park that's quite expensive in places it really does put Merlin to shame.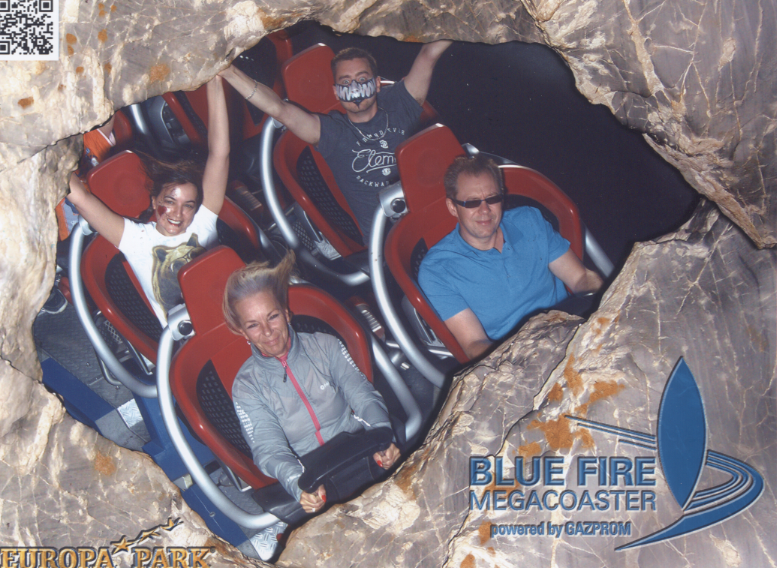 Also, the park has a **** tonne of Pokestops, the monorail's are great for getting distance on your egg's or your buddy and there's something proper nerdy about the accomplishment of owning the Blue Fire gym;