tl dr; meh
Can't believe I never realised Drayton Manor was only an hours drive away. With tickets at £20 if pre-booked online, and 2 credits since I last visited, we decided to book it up and see if the park had improved since my last visit where I didn't expect to be visiting for quite a while.
Upon arrival an hour and a half after opening, the car park had no more than 50 cars in it. Admittedly the weather was garbage all day, it's early season, school time and midweek. The new hotel looks mightily impressive, the car park and the entrance plaza less so. Again, the weather was poo but even then I didn't expect it to be this quiet;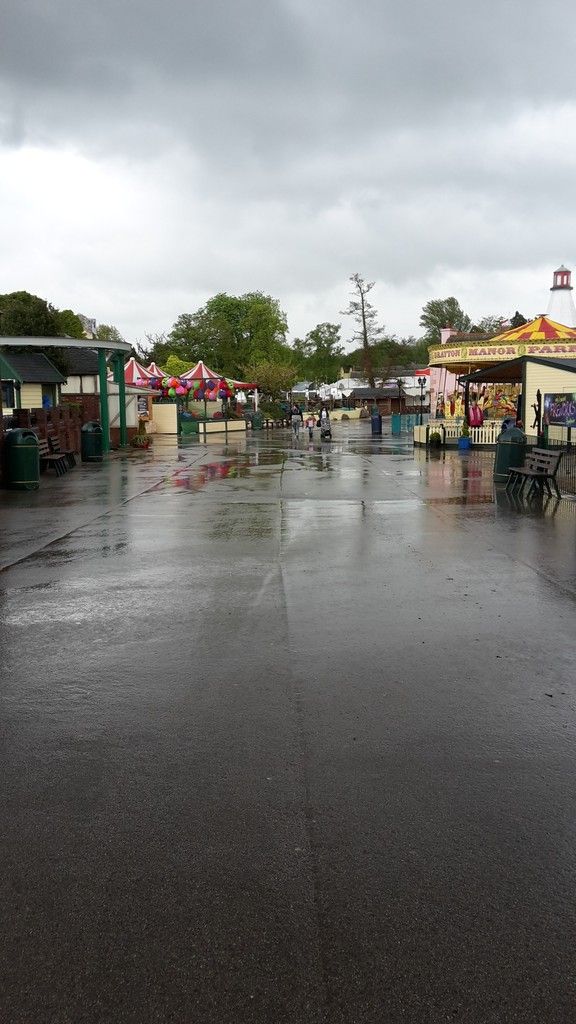 Went over to Ben10 first. Straight on the ride, friendly staff. Quite enjoyed it, perfect sort of step-up coaster for kids. The whole area around it and the buffalo coaster felt like it'd be quite nice in the summer;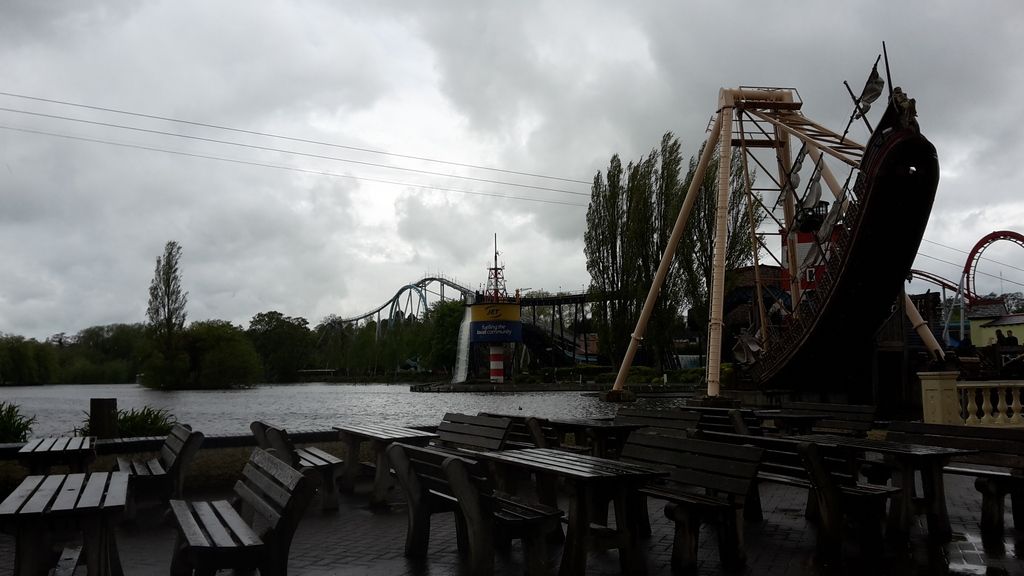 Headed over to Thomas Land. Have no clue which part is the new expansion and which part was already existing, but have some photo's of all of it;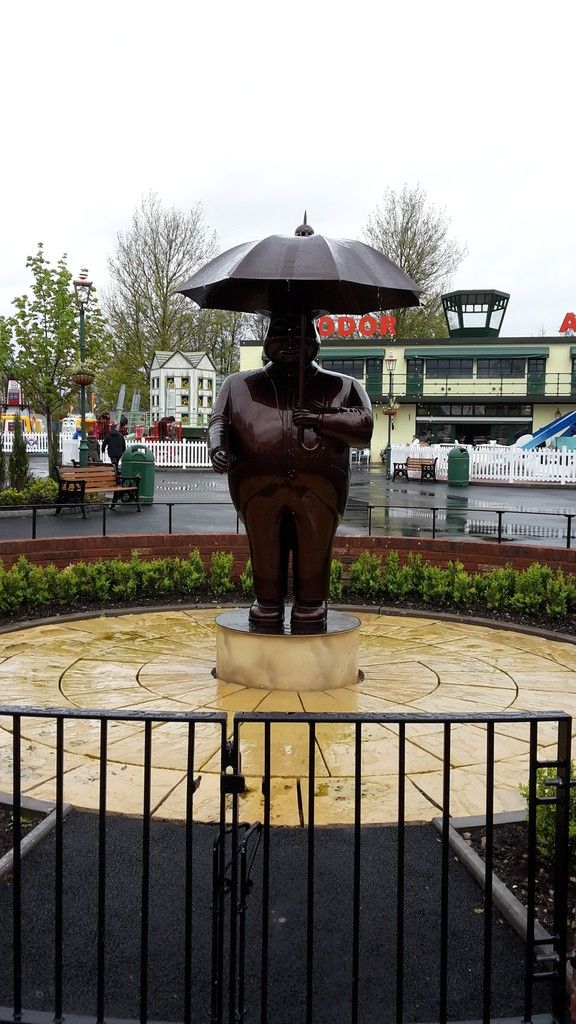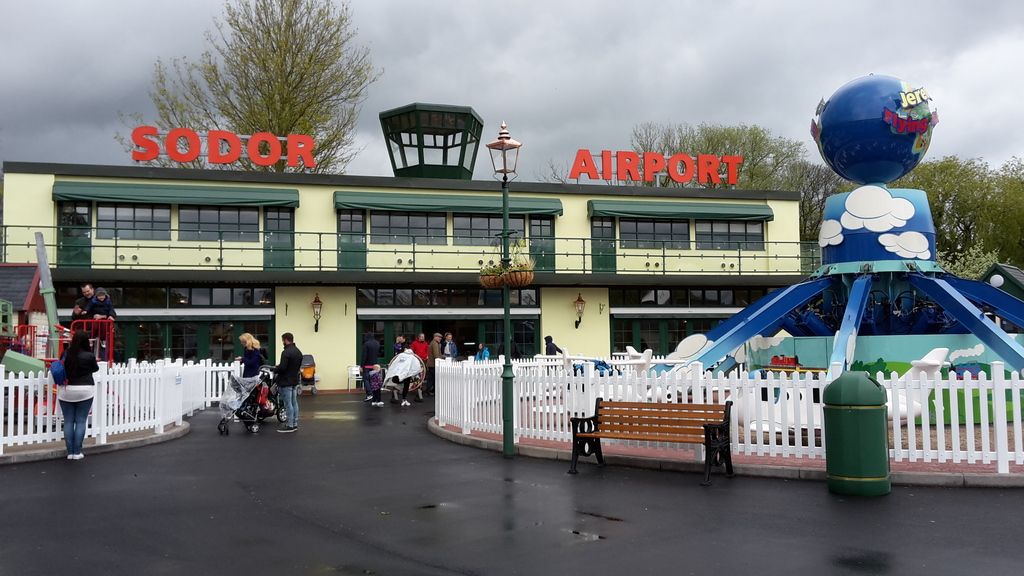 There was a lot of rides, and the place was busy all day. The coaster was surprisingly very good, the track transitions before the station look like they'll be horribly jolting but they're actually remarkably smooth. All the usual sort of kiddy flat rides, a few water ones tucked away, a mini drop and shot tower that I'm certain my restraint wasn't locked on. As we were leaving the fat conductor did a 10 minute song and dance that again on a busy summers day would probably have drawn quite a crowd. We rode everything in Thomas Land, again without queueing, and then headed over to the other side of the park where the 'big' rides are situated. Wasn't holding out much hope on the weather though;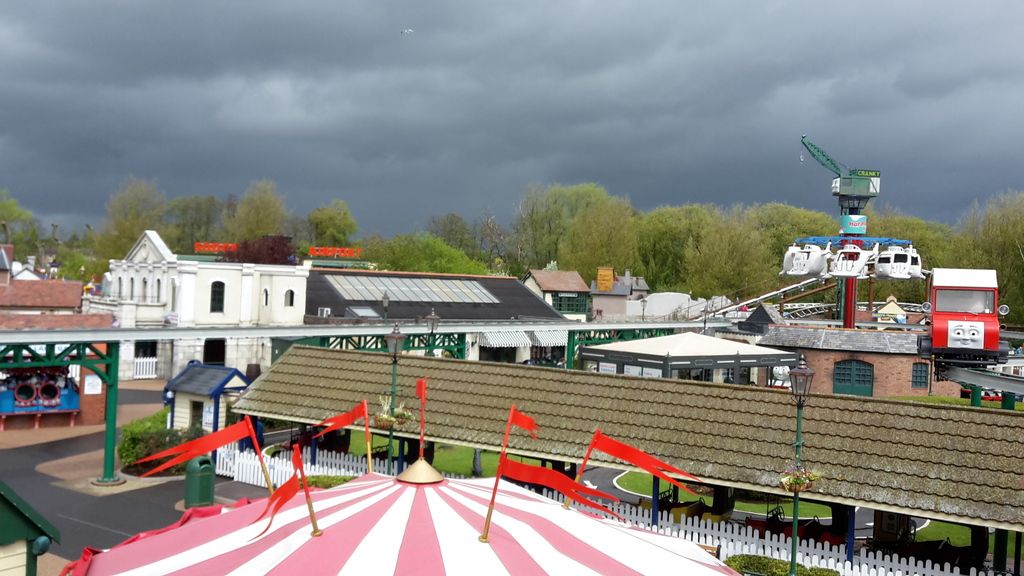 Queued for Shockwave, nobody else in the station or on the ride. Looked out the window, nobody else even in the entire area. Was a proper ghost town. Waited ten minutes as they had to reset the ride, then they told us to go ride something else as they didn't know how long it'd be. Fair, breakdowns happen. Went over to their Zamperla Air Race. I hate flat rides, never usually bother with them, but was thoroughly impressed with this one. Was basically just like a continuous loop of corkscrews.
G-Force next, station complete with pumping techno at ear splitting levels. Again we were the only ones in the station, negative of which we had to sit and wait for 15 minutes until they had enough people to fill the car and send it round. As I remembered, the restraints were horrible, the lift was horrible, it was just a painful ride.
Saw Shockwave was sending round empty trains so we went back to queue. Another test run and we got on it in the middle rows after a queue had eventually formed. My feet weren't fully flat on the floor. Big problem. I remember quite enjoying this last time round. **** hell this thing is on it's last legs. First drop and my head smashed side to side to the extent I'm still nursing the headache. Spent the rest of the ride bracing and trying not to take all the bumps and bounces via my scrotum. Not an easy task. The ride sounds like it's falling apart too, especially in the station. Not even sure if it's the NPower Shockwave or the 7up Shockwave but it's proper gone down the pan. For fairness though Katie in the seat next to me enjoyed it. Odd.
As you can see, really busy. Decided to try and avoid the heavier rain and find somewhere to eat; took the train over to the back end of the park, can see they've made an effort for this to be more than just a track-round-the-back-of-a-warehouse jobby but until all their foilage grows it looks half-assed, unbefitting of the rest of Thomas Land.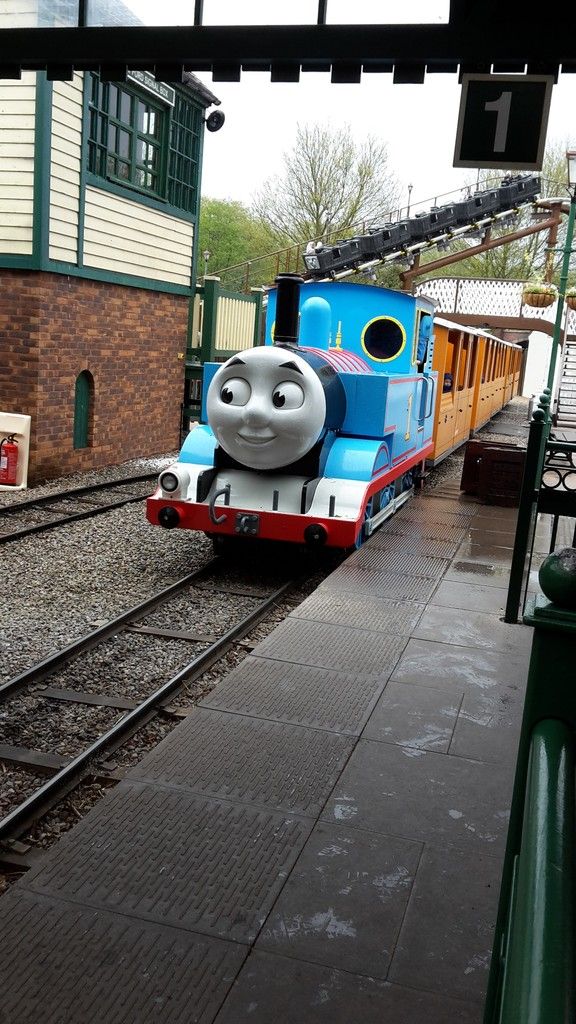 Got off and thought we'd wandered through a No Entry point, it was completely empty, a small kiddy ride not open with the carts all lined up out of service, closed shops and empty animal enclosures. Turns out the only open thing in this corner of the park was the giant train set;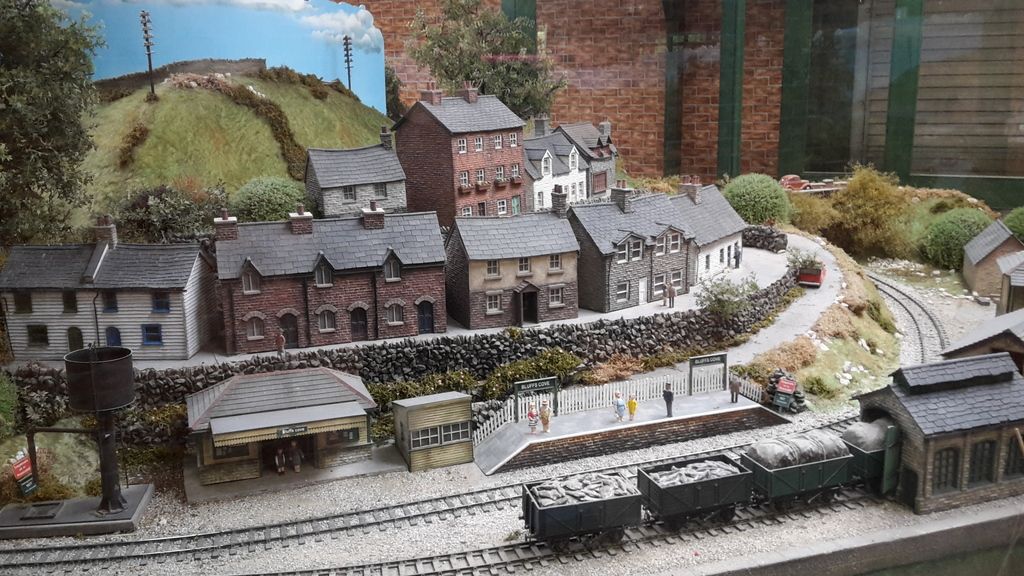 Detail was impressive, for about 4 seconds. Walked around a bit further and came across the play area, which was of a decent size with loads of slides, climbing aparatus, musical instruments and the like. Picture only shows half of it tbh;
In the background you can see their 'Dino Trail'. Which is just a 200m path in between a few models of dinosaurs. I don't know how or why this has become a 'thing' for parks to do now but it comes across as proper half arsed. Went for a walk around the zoo, which was almost as depressing as the weather itself. None of the cats were out, the animals that were out had small enclosures, dull enclosures and just looked utterly berefit of stimulation. Still though, they had a (I want to say marmoset but I'm not certain) who thought he was a mime;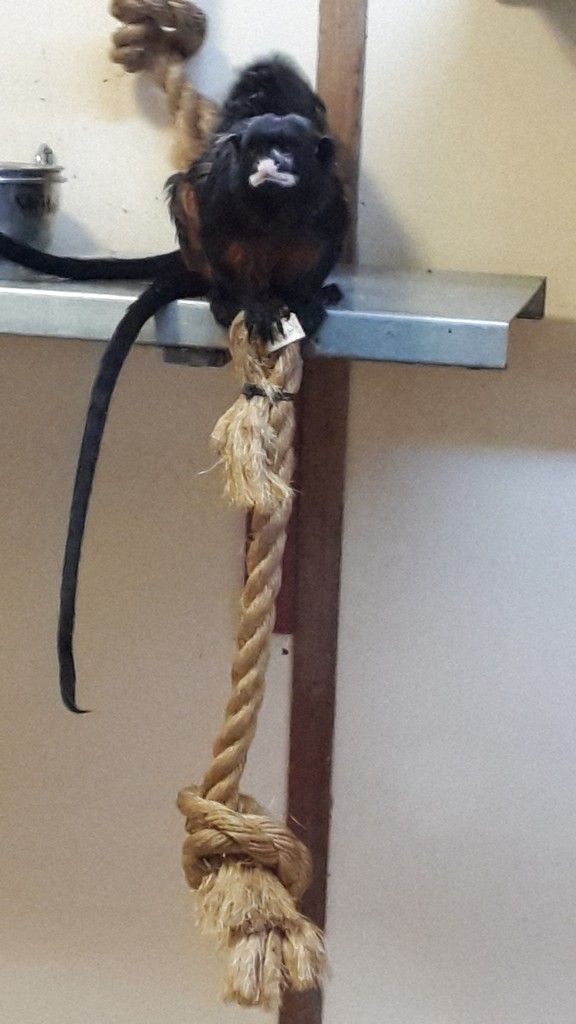 And they had humping meerkats;
Went into the reptile house (the entrance of which was a rotting wooden door with no signposts or clues as to it's purpose. Half the exhibits seemed to be Cuban Boa's (I counted 5 seperate enclosures), an Anaconda, a tiny Caiman and the odd lizard. After at least drying out a bit in their thanks to the humidity, we headed back down to see what else there was we fancied doing. Got the Buffalo Coaster done, went to go check out the Yogi 4D experience but there was nobody operating it, just a wide open door and a flatscreen tv running.
At that point we'd been in the park for just over 3 and a half hours, had ridden everything in Thomas Land, seen all that was to be seen in the zoo, had got all the coasters done. Didn't fancy anything else so decided to beat the traffic and head home. Pulled out my £3 parking ticket, only to stick it back in my pocket when I drove straight out the park without needing it at all?
Anyway, yeah. Thomas Land is a great little addition, but it's become a bit all-consuming. The rides and quality of the theming of them is brilliant. The area itself is open and fresh, but let down by boring monotonous tarmac EVERYWHERE. Opposite that though, the rest of the rides and indeed the rest of the customers who aren't families with young children just feel like an after thought. Yeah, they've added the air race but it's absolute chalk and cheese in terms of appearance o the two sides of the park. Turn left off the main plaza to the clean and polished and new Thomas Land, turn right and walk through the ghetto of rollercoasters and thrill rides that haven't seen too much attention in years. And as for the zoo, that place is probably
the
worst animal place I've been too. I know it's not the focus, but it's been horrendously neglected and really they should just cut their losses on it for their sake and the animals too.
Eh, I paid £20 for a day at a theme park, got on all the rides I wanted to and had a decent day out. I'd loathe to pay anything more, and I'd loathe to visit if I had to queue for anything. But I'm hoping the hotel has secured them an income enough that we won't have another American Adventure on our hands, because if you take Thomas Land out of the equation that's very much the vibe I got walking around the rest of the park.