Living in the south we dont really have a great seaside park, my closet with an alright amount of rides is Brean and well its Brean
and thats still over an hour away.
Blackpool, Great Yarmouth and Southend are some great seaside parks but there is nothing like them along the south coast.
There must be reasons but i have been working on a what if? park. Bournemouth Pleasure Beach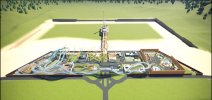 If real it would have been located just down the coast at Boscombe replacing the pier.
I still have a lot of work and while im done on rides, i still having theming and final decisions on some rides to go.
Going from the east to the west side of the park, in the 90s the park added an indoor area themed to Atlantis, the main ride is a Zierer Tivoli that encircles all the rides in the area.
Next is an old haunted house (the only dark ride) along with a restaurant and the parks newest attraction an Intamin launched lift coaster, with five inversions and powerful airtime, this is the new star attraction, it goes through the log flume and over buildings and paths.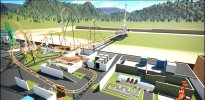 Going to the west side of the park you find the worlds second oldest operating coaster (side friction) as well as a Maurer spinner the tallest spinner in the UK. Many rides here and around the park have rides under them or shops and food outlets.
Then you have the classic 1920s woodie with an out and back layout, at 70ft it has been the main draw over the years. A classic log flume also operates tightly fitting in the minimal space.
The Final area is the pier, at the end you have a classic collection of rides with some offering a great view.
In total the park has 20+ rides and attractions with a nice mix of family and thrill. I am intrigued on why a decent sized park never came to be down here, Paultons is great but if i want a thrill its a couple of hours for Thorpe at the mo
Anyway when im done ill post POVs and pics (might be a while
) but its a fun project im happy to be finally getting out of my head.
Last edited: