Trip Report Directory

2021
Part 1:
Paultons Park
Part 2:
Wicksteed Park
Part 3:
Clarence Pier & South Parade Pier
Part 4:
Hemsby Fun Park
Part 5:
Pleasurewood Hills
Part 6:
Great Yarmouth Pleasure Beach & Banger Racing
Part 7:
Joyland Children's Fun Park & Pettitts Animal Adventure Park
Part 8:
Cornwall Tourism
Part 8.5:
Big Sheep & Beechfield Play Area
Part 9:
Botton's Pleasure Beach & Fantasy Island
Part 10:
St Nicholas Park
Part 11:
Fairlands Valley Funfair
Part 12:
Clacton Pier
Part 13:
Hyde Park Winter Wonderland
Part 14:
Hyde Park Winter Wonderland "I Forgot One" Edition
Part 15:
Legoland Windsor & Windsor On Ice
2022
Part 16:
ArcelorMittal Orbit
Part 17:
Wonderland Lakeside
Part 18:
Beach's Valentines Fair
Part 19:
Funland Hayling Island
Part 20:
Harbour Park Amusements
Part 21:
Finsbury Park Funfair
Part 22:
Flamingo Park & Queensbury Park Funfair
Part 23:
Skyclub Wheel Lakeside
Part 24:
Old Macdonald's Farm
Part 25:
Babylon Park Camden
Part 26:
Leisure Island Fun Park
Part 27:
West Sands Fun Fair
Part 28:
Oakwood Theme Park
Part 29:
Coney Beach Porthcawl & Barry Island Pleasure Park
Part 30:
Romford Funfair & Croydon Summer Beach Festival
Part 31:
Flamingo Park Revenge
Part 32:
Flamingo Land
Part 33:
Flamingo Land Revenge but the park kicks my ass
Part 34:
Spooky Festive Fair Bursledon
Part 35:
Tulleys Shocktober Fest
Part 36:
Hyde Park Winter Wonderland
Part 37:
Blackpool Pleasure Beach & South Pier
Part 38:
Blackpool Pleasure Beach, South Pier, & Blackpool Pleasure Beach
Part 39:
Paultons Park
2023
Part 40:
West Midland Safari Park
Part 41:
Hewitts Farm Funfair & Southall Park Funfair
Part 42:
Ocean Beach Pleasure Park
Part 43:
Wanstead Flats Funfair
Welcome.
Here's a collection of EVERY theme park trip I did in 2021 where I rode at least one new coaster - I'm doing this to improve my writing with future trip reports especially if (hopefully when) I go international.
You may have noticed the trip report directory is gone. I've decided there's not much use for it anymore, but if people do want it back, just ask!
As of January 2021, I was at 84 coasters (I'm not goon-y enough to call them credits, I think). This graph shows 82 but I'm sure the difference won't kill anyone...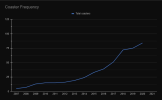 Part 1: Paultons Park
​
April 2021: Southampton, UK
. A once-small family owned family park has just opened a massive American themed area about tornadoes, storms, and farmland. I've never been to this park before. And so begins a mission to
Paultons Park
.
Travel notes: Went on a weekend. Go to Waterloo station which is easily accessible via the Underground, and in central London too. Get a train from there to Totton - don't listen to those who tell you to go to Southampton Central. Totton is infinitely closer to the park than Southampton Central station is, and there's a bus stop right outside the station that will take you to the park. In this case the bus went straight to the park, though I've heard that it's known to not go there and stop at a pub known as the Mortimer Arms instead. Talk to the guy driving the thing and see what he says - if he says "no park", then prepare for a pretty hefty walk from there to the park. There is nothing interesting to look at on the bus, though on the exact road that goes to the park you can see the park's skyline extremely well. Unironically gives Thorpe a run for its money. The bus operates a double decker service, but brace for young loud children.
Being admittedly clueless about whether a bus takes you from the park to the station, I just taxi'd my way. While there were no changes on the way there, there was one change on the way back but thankfully this change is right at the beginning. Approaching Waterloo you can see Thorpe Park's skyline, and both ways you can see the millions of golf courses across the Surrey area and the madmen golfing at six thirty in the morning. You also cross over a bridge near Southampton with great views of water. You can also get very short glimpses of the London skyline - most notably the Shard.
The skyline comes into view and I'm making it no secret to the others that I'm ridiculously excited. I see Storm Chaser, I see Cobra, I see everything.
If we really wanted to be efficient, we could do the low capacity or largest queue rides first - that means we start with Cobra and Pterosaur. That means I start with those, right?
...Right?
Nope. Cobra opens at 12.
#85 Storm Chaser
to nobody's surprise was the first ride of the day. Why strive for efficiency when you can just cross out the best part of the day first? As expected it might as well be my favourite themed area in a park I've been to, and hell I've been in the OzIris plaza. Being one of the first few people on the train, we disengaged from the lift and off we went through a ridiculously fun but short layout. I almost admire the fact that the ride's short because it "knows when to end" and doesn't allow the train to lose all of its speed. Admittedly when we pass the double helix of death and onto the figure-eight bit I have "this is the end" in my head. I think I came off my first ride wanting more, but at the same time I was satisfied with what the ride was. It's beautifully presented and doesn't do any more than it needs to. I think a ride being "too short" would be one that provides a kind of 'incomplete' experience. It's why I don't classify Oblivion as too short; it doesn't need to do anything else past the drop in my eyes. Either that or I'm too inexperienced with riding coasters.
However I think a ride of this intensity being short is perfect for the park, because if it's overwhelming for a younger guest, then at least it's done quick.
After three rides I was ready to move on with my day, saving Cyclonator for Cyclolater.
#86 Cat-O-Pillar
was my second Tivoli Medium, and this time I knew to sit in the back. Good whip over the first drop and then you wait for the coaster to dawdle around the rest of the course doing nothing. One of those coasters where you do a slight 'weee' between moments of awkward silences.
Before moving on we stumbled across this strangely beautiful area of the park:
And <insert joke about a certain UK park duo that are both named after flamingoes>
And now we're back to coasters.
#87 Velociraptor
was shockingly really fun and much much better than Accelerator. I actually rode this three times trying to get a good ORP but gave up in the end - I got a good one from Cat-O-Pillar anyway. I also got to try out different rows, I think I prefer the back but the front gets you quite high up the spike. With these parks where everything here is a clone of some sort (not that I'm complaining, they do fit in the park extremely well), it feels strange writing paragraphs about these when in a few years time I'd say "#589 s'alright, #590 is okay at best moving on" for the same rides at different parks. You get what I'm saying?
#88 Dino Chase
was my first Tivoli Small and it was a blast. On the flipside I really don't have anything to say about this ride other than 'really fun and themed really well'.
Now bring back the paragraphs. I'm kind of speeding through these coasters because that's exactly what I did on this trip. And this is where we made a mistake. It's been a good while since we've had something to eat, and we entered the queue for
#89 Cobra
. We were starving, the line was an hour long, we had no clue how long the queue actually was and with each switchback we sighed in pain. It was a very tight space too. Not a highlight of the trip at all. Miserable queue aside, when it was our turn we had the pleasure of seeing a group of people get booted off the ride for queue-jumping which brought a smile to our faces. And now it was time for the ride where we put all of those problems with the line aside because this is one of the most God damn fun rides I've ever done. The second we disengaged from the lift we were in hysterics. We had NO idea how hard these elements were going to hit. From the helices to the hairpins to the hills, we had such a good time on it. Forget the claustrophobic cattlepen, forget the fact that there's next to nothing in our stomachs, we enjoyed ourselves far too much on it. Too bad I forgot how to do my "ORP pose" and it turned out terrible but forget that.
Before the last new coaster of the trip we had one singular sausage roll and then something happened that I completely forgot was scheduled for today. During this break we remembered that they're doing a minute's silence to celebrate the life of the recently passed Prince Philip which actually ended up in them temporarily pausing operations of every ride in the park - I admire the level the park went to for the respect. Surprisingly the majority of people did stay silent to commemorate. I remember specifically watching the log flume pause operations as it stopped the waterfall of the drop and stacked all the boats, then resumed after it was done.
With the second blow of a whistle everything was back up and running and it was time for
#90 Flight of the Pterosaur
. It was a queue just as long as Cobra but ten times less grim. At least I had something to lean on. Fun ride, great restraints, good finale.

With that the day was almost over and we finished it with a day on the very forceful
Cyclonator
and a finale run on Storm Chaser.
Now bring on the worst part of the day. Here comes an endless assault of mistakes. Because of my final lap on Storm Chaser we had absolutely no time to book a taxi and get the hell out of the park to get our train. We did not have a flexible ticket. If we missed it, we would have to pay full price for another ticket then wait an hour at the station on top of that. The time in the gift shop was chaos as we experienced the most indecisive customers of our lives directly in front of us. I looked for ANY empty desk but had to wait it out for what felt like minutes.
Our turn. Let's buy the thing and go.
Right now where the hell is our taxi? They said they're here but their car is blending into literally every single other vehicle in the car park; it's impossible to identify our ride to the station. We looked around for a good five minutes and BINGO! We found him. Into the cab at speed. When we arrived we thankfully had a good few minutes to spare and we were starving so I opted to pop to a nearby efficient takeaway restaurant who can usually prep our food in seconds. You can probably guess what happened. After apologising profusely to the poor dudes in the middle of prepping food for a guy who can't take it (I paid before they started making it) I ran off back to the station.
With that kick in the teeth we hop onto our train without our food and reminisce about the better parts of the day, for example not the takeaway chaos, and finally eat something proper back at Waterloo.
I've never been good at leaving.
------------
So Paultons Park, needless to say, might be one of my new favourite parks in the UK (daring today, aren't we?). After just one visit it does seem a bit silly how I can just determine that so quickly but man the place is just a vibe and a half. Notable attractions I missed out on included the Dinosaur Tour Co., the 4D cinema, Trekking Tractors, Buffalo Falls, literally everything at Peppa Pig World, and apparently this 70something year old water mill. Didn't mention it but that zoo section in the transition point between Critter Creek and Lost Kingdom was nice to exist in too, but no photos as they came out terribly.
Last edited: