Why the Curse of Sandman, you ask? Well because the guy's a jinx, that's why. Josh the Jinx, that's what we'll call him from now on. Every time I go on a trip with
@Sandman
, bad shizzle goes down, from minor inconveniences and narrow escapes to full on catastrophes that scupper the entire trip. The first one, coincidentally, was in Belgium on a CF Live to Walibi and Plopsa back in 2017. Speeding ticket. No biggie, €30 slap on a the wrist and some derision from fellow CFers. I can live with that.
The second, also coincidentally, was after Ghosterforce 2017 when, due to some rather unfortunate miscalculations we'd left ourselves with exactly 1 hour to get from the exit path of Speed of Sound at Walibi Holland on to a plane at Schipol airport, and also returning a hire car in that time.
We made it, but with literally seconds to spare - I'm talking sprinting through the airport corridor as the boarding staff were about to close the barrier, screaming at them to '
Wait for us!!!'
from 100ft away - that kind of seconds to spare. That was tense, I tell ya, it still baffles me to this day that we made that flight.
Then came the big one. Josh was with me on the way to Skegness last summer for an unofficial CF get together when we... well I, hit a pothole and wrecked 2 wheels on my Jag.
Had to drive it around with the orange wheels-of-shame for a week. The humilation was unbearable.
What with recovery charges and replacement wheels etc... that one cost me about 1600 quid, not to mention a whole Friday night stuck in a sh**ty layby in deepest, darkest Lincolnshire with no food or drink for miles in any direction.
And we didn't even get the bloody creds!
So what disaster would befall us this time? Well, it's a classic, but I'll tell you later. For now though let's start with....
Day 1: Walibi Belgium.
For as long as I can remember, Walibi Belgium has been thought of as Walibi Holland's less cool, acne ridden sibling. While WH has had a (formerly) world class Intamin for about 2 decades now, for the longest time the best WB could offer was a trio of dodgy Vekomas and a Schwarzkopf shuttle in a tube. But in the last 5 years I'd say things have switched around and as it currently stands, Walibi Belgium is the better, more rounded park, despite the Dutch one getting a top tier RMC in the meantime.
On arrival at the park it was immediately apparent that our day was going to be fairly stress free, with only about 4 rows of car parking spaces taken up, and also both of us had been to the park before so neither of us had to 'get the creds', as it were. We were free to mop up the new stuff and reride all the good stuff at leisure.
Sure enough, once inside the park, most stuff was walk-on all day. The Kondaa queue maxed out at about 10 mins. Nice! We started with a couple of laps on that, then. I mean, why wouldn't you?
Back row first, followed straight after by a back ish ride. Yep, good stuff. First drop is fab, reminiscent of EGF. First airtime hill is a highlight, strong ejector throughout. Not quite as insane as Hyperion's mega hill, but still pretty good. The next hill - the outerbanked one - is also very good indeed, another highlight. Unfortunately, entering the non-inverting cobra roll seems to wipe off a lot of speed so that particular element isn't one of my favourites, think I would have preferred a traditional cobra roll, but it picks up pace again on the way out just in time for some nice airtime hills and some high G helix action. The twisty double down is probably my least favourite part of the ride. While it does deliver some air, it does feel a little short lived and awkward, like it's twisty just for the sake of being twisty, rather than being, just... good. Couple more hills, high speed turn, series of bunny hops yadda yadda yadda and into the brakes. All in all pretty solid, but we both agreed that it had a bit of warming up to do and elected to come back later for some rerides.
Because I needed to preserve battery life on my phone for navigation purposes I didn't take many pictures today. Josh was the photographer for this trip, so hopefully he'll be posting some snaps fairly soon. I did however take a few snaps of Kondaa though, y'know, for the obligatory gloaty Facebook post, but I'm a sh*t photographer and the skies were grey and overcast so they're not very good.
Here you go:
Plus a couple later in the day when the weather had brightened up:

*And also, it would appear, turned the world sideways.
Hopefully Hixee will sort that out.
The next new-to-us cred was Tiki Waka (Didn't he direct Thor: Ragnarok?
). I didn't pay much attention to this when it was in development because I thought it was just a kiddy cred replacement for Coccinelle, but no, it's a proper coaster. A Gerstlauer bobsled. Looks good, well presented, nice paint job etc. It goes over the scenic boat ride and it has a nice little high rope climbing course for the littl'uns intertwined with it so that's all good. So how was my ride? It was nice. Nothing too memorable or groundbreaking but it's nice that it doesn't have any of those mouse-like hairpin bends like some Gerstybobs. To be fair, this probably deserved another lap or two cos it's... have I used the word 'nice' yet? but we were far too busy enjoying rerides on Kondaa and Psyké Underground for most of the day to bother with just 'nice' things. We wanted awesome things. Which brings me onto....
..Psyké Underground. There are two ways of looking at Psyké Underground, you can either look at it as 'Meh, it's just a Schwarzkopf shuttle in a tube' or you can be like 'OMG it's a Schwarzkopf shuttle in a tube!!
'. I'm definitely one of the latter! My love of this ride stems back to the ThunderLooper in the 90's and any opportunity to relive that memory in some way is always welcome. So what if the theming is a bit cheap and funfair-ish (neon graffiti, strobe lights, klaxons, sirens and a good old fashioned countdown), when it's done right it can still be a very effective way of building anticipation for a ride. Especially one with a pitch black launch. Love it! We had about 4 or 5 goes.
Yes, they do have another +1. Yes it's a kiddy cred. It's called Fun Pilot. It looks very similar to the Farmyard Flyer at Paulton's. Yes we rode it. That's all I have to say about that. Move along.
We had a rip on the minetrain. S'good. I like it. The hardware is fairly standard but the theming is nice and it looks pretty. It even goes behind a waterfall, which is always a good thing. Unfairly overlooked in the world of mine trains I feel.
The weather was still cold, grey and windy so we didn't ride the log flume or the rapids (but from memory I would describe them as 'ok'), however it could have been blowing a hurricane and I still wouldn't have missed out on a go on Pulsar. Love this thing - I think it's brilliant, such good fun and more thrilling than you might imagine. I wouldn't exactly call them 'launches', more like hefty shoves, but you can really
feel
the amount of power needed to accelerate such a big, heavy boat. Bit of airtime on the hump, some delicious vertical hang time on the towers at each end and a visually spectacular finale to round things off. In terms of pacing, it's an almost perfect ride, the way it builds, and builds, and builds and then delivers a big pay-off at the end that may or may not get you absolutely drenched. It's brill, would love to see a few more of these popping up.
Me and Josh got away with a light sprinkling this time and, given the blustery winds and the state of many other riders we spotted that day, we got off very lightly so we didn't push our luck and stuck to just the one lap.
That's it for the coasters. We purposely didn't bother with the trio of dodgy Vekomas - the Boomerang, the SLC and the woodie. Why spoil a perfectly enjoyable day with crap? It's a shame actually that all three of these coasters are at the front of the park and are the the first things you see when you arrive. Doesn't really set the right mood, know what I mean?
To be fair, the woodie - Loup Garou - is actually ok, ish, and we would have had a ride but for some reason it seemed to attract a 30 minute queue for most of the day. Nah man, we could get 2 or 3 goes on Kondaa in that time so why would you even bother?
Also to be fair, their SLC is not the worst one out there. I mean, it's not great, obvs, but it's less horrendous than its Dutch counterpart. But again, why bother? Got the creds, no need to endure them again, just get back on the good stuff innit.
The Boomerang though, yeah that's a bad'un. Avoid anyway, +1 or not.
They've got dark rides here too. There's a Vekoma madhouse for starters, we didnt ride it this time but it's... ok I guess? I can't really remember it to be honest but, y'know, at least they've got one. The real star of the dark ride line-up though is the Challenge of Tutankhamun shooter ride. It's actually bloody good you know. It's a fairly large scale thing, with reasonably impressive set pieces and decent animatronics. Was particularly impressed with swarm of giant, demonic hornet things. Nifty effect, man!
There's also Popcorn's Revenge. We almost forgot about this one to be honest, it wasn't until we spotted it on one of the queue time display boards that we even remembered it existed. Neither of us knew what it was exactly, only that it was new since our last visit and was supposedly quite good fun. Took some finding mind you, could easily overlook it but FYI, it's over near the Boomerang.
What is it then, Howie? It's a trackless, screen based, shooty dark ride and it's really rather good. As trackless dark rides go, it's perhaps not quite as lavish as, say, Symbolica but it certainly ain't bad, Walibi haven't skimped on this, and the shooting aspect of it certainly makes it more
interactive
than Symbolica. And it smells of popcorn. Lovely!
The rest of the day was made up of Kondaa & Psyké rerides, mixed with casually strolling round absorbing the atmosphere. One thing I did notice on this visit was just how many flat rides WB actually has - there's quite a few of them that I hadn't spotted previously. Nothing spectacular of course, no Talocan's, but there's dodgems, chair swings, carousels, a breakdance, a top spin, a 4D cinema, various spinny things and, of course, a big-ass Intamin drop tower. All in all this park really does have a solid line up. Sure, there's one or two pieces of garbage but as long as you elect not to ride them, you'll have a fab time.
Subsequent rides on Psyké were as mental as always, and you'll be pleased to hear that subsequent rides on Kondaa (6 in total) had picked up the pace noticeably since our morning rides and by the afternoon it's safe to say that Kondaa was, i believe the term is 'hauling ass'. Not Top 10 material, but fairly comfortably in the Top 10% so still pretty impressive. Good enough to warrant buying a mug and a pen, anyway.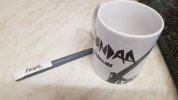 A great day overall then, low crowds, big ride count and some very decent coasters. This park seems to be going places. Think about it, in the space of less than 5 years between our two visits they've added a whole new themed area with supplementary attractions, an expensive trackless dark ride and 3 brand new creds, one of which is a continent class, Intamin mega. That's an impressive rate of expansion by any standards. Good on 'em, I say.
In the next part then, Ride to Happiness and... not much else.
Last edited: