Simple question: Have you or any vehicle you've owned/driven appeared on Google Streetview? (or equivalent service) Bonus points if featured away from home!
I've been featured a total of 3 times:
1: One of my old cars parked outside my uni house in Cardiff a few years ago: (blue fiesta)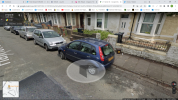 2: my work van outside a customers house, while I was making the delivery a few weeks ago:
3: Same day as above pic, they captured me in my current car having lunch after work:
They've driven past me a few more times than this but this is all they've uploaded.