I recently spent a week in Spain where I took my first (and second visit) to Port Aventura. This report will comprise four parts:
1. First day at Port Aventura Park
2. Port Aventura Aquatic Park
3. Barcelona
4. Second day at Port Aventura Park
Before we went we ordered 3 day/2 park passes which enabled you to visit the park for three days or have two days in the park and one in the water park. This was priced reasonably at €69 and I would highly recommend it if you're planning to visit.
So onto the first day; we arrived at the park around 12pm after a half an hour or so drive from the villa. Shambhala could be seen a long time before this however from the road as it is huge! We parked the car and initially got harassed by ticket touts – beware there are a lot outside the park. After dismissing them, we headed to the entrance and scanned our tickets.
Upon entering the park I was very impressed with the theming and I loved where it opens out and there's the lovely sight of the lake with Shambhala dominating the skyline in the background.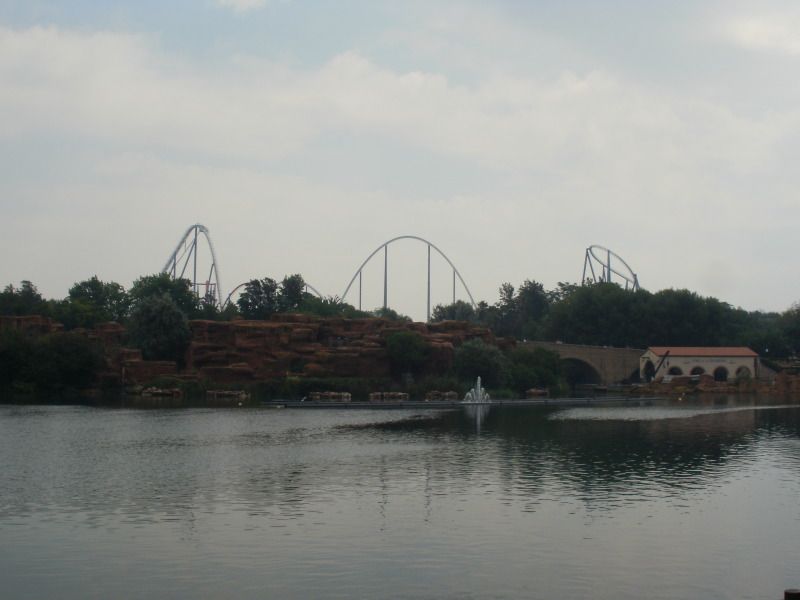 We headed onwards to see the queue board outside Baco which wasn't a pleasing sight. All the big rides were around 1hr+ so my cousin and I decided to go on Furius Baco whilst everyone else had a coffee. I liked how they have a queue board outside every major ride though.
We walked up the (what we assumed was a) vineyard and reached the inside queue. Talk about cattle pen. This seemed to be very popular for rides in Port Aventura so we had to get used to them. The wait ended up being about an hour after lots of winding queue which wasn't themed that well if I'm honest. But then again I didn't really get the theme – monkeys and wine bottles… :?
We finally reached the station and there seemed to be a bit of chaos. Any fasttrackers turn up and they all get put on immediately yet people in the normal queue start going to the air gates then end up being told to go back. They weren't filling up empty seats either with some trains being sent around with two empty seats together. There's also an extended front row queue which you're not allowed to wait in if you want to go on the front row… :roll: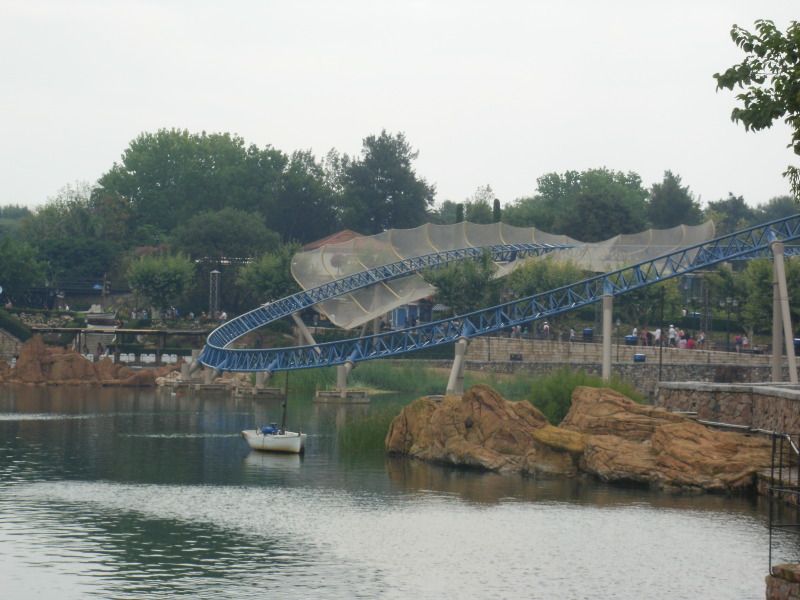 After being assigned to the second row, I sat on the outside seat of the left side. I wasn't sure what it was going to be like from other people's reviews but I knew an 80+mph launch down into a turn would be pretty insane. We went into the pre-show (didn't really understand what was going on here either) and then eventually the brake fins lowered.
Suddenly there was a fantastic acceleration. You fly over the hill and then you hit the turn. This is where it starts to hurt a little. It's really intense – almost too intense – as the restraint kind of squashes you in the seat. After seemingly turning right for ages you go left then right again then into the immense inline twist which I really enjoyed. The final turn over the water is a really nice ending to the ride as you hit the brakes with some force.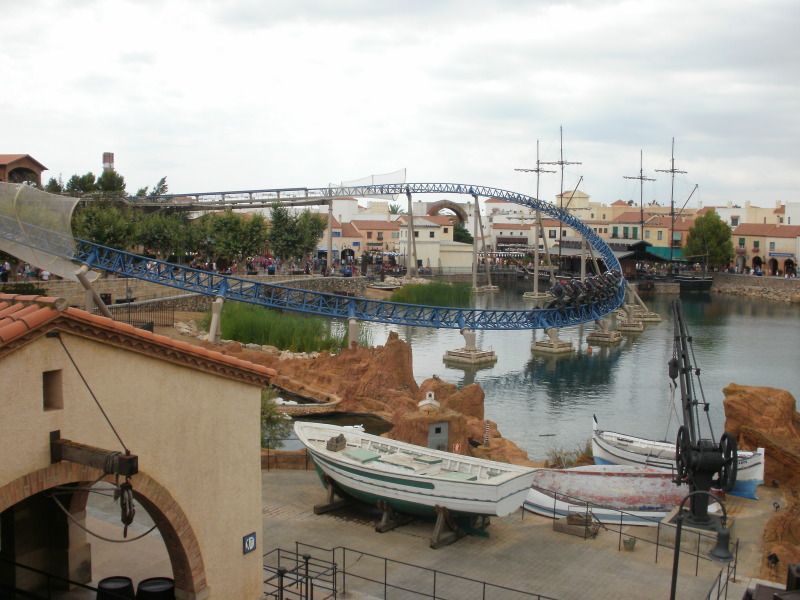 In terms of pushing the boundary of innovation and intense theme park attractions, Baco does a really good job. But it's just a little too rough to be one of those stand-out rides. I did enjoy it, but the shaking detracts from it a bit.
After exiting through the on-ride photo area which was followed by lots of bottles of wine, we had lunch in a little place in Mediterrània. Next we headed upwards and left over the bridge towards the rapids.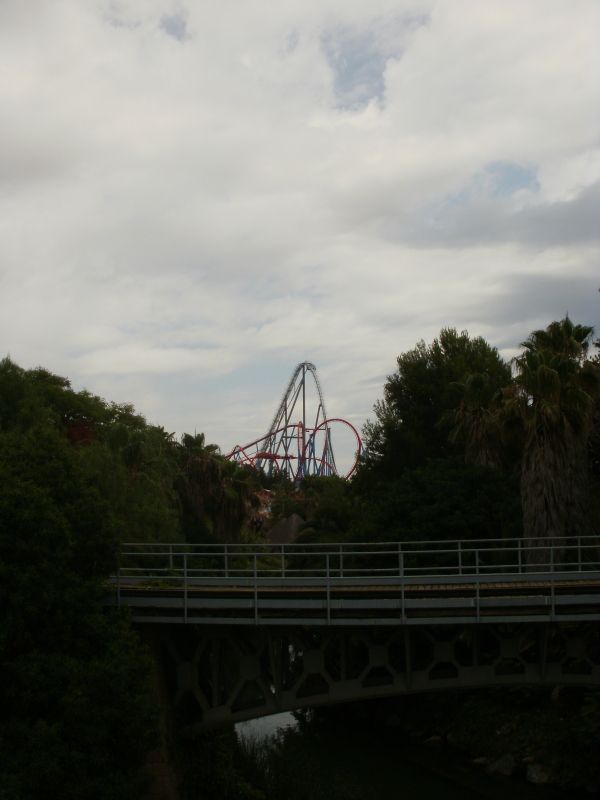 Shambhala can be seen from nearly everywhere in the park
The queue board indicated a 45 minute queue so, after the massive cattle pen for Furius Baco, I was hoping it was wrong. Luckily it was and we waited about 10 minutes before boarding.
Grand Canyon Rapids was a really fun ride – one of the quickest rapids I think I've ever been on. There were quite a few splashes despite some that didn't materialise and the classic water pistols for onlookers. Sadly, due to the current being pretty fast, the ride did feel quite short, but it is one of the better rapids I've been on. I like how it is quite hidden and you can hardly see the layout without going on it.
Using the good old theory "I'm wet now so I might as well go on the next water ride", we headed for Silver River Flume.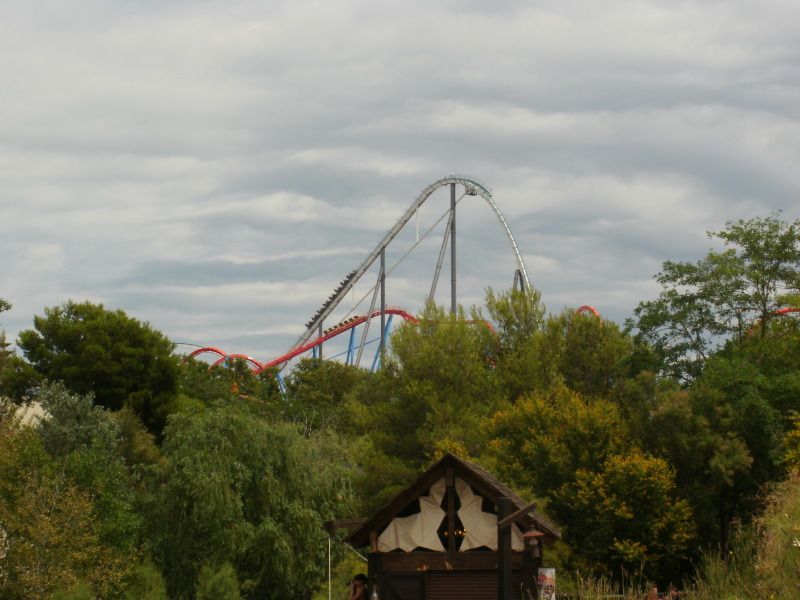 Shambhala peeking above the trees again
The area, like most of the park, was themed very well and we passed through the entrance to meet a rather long queue – quite reminiscent of Big Thunder Mountain Railroad, just with a lot more graffiti. After around 45 minutes we climbed down the stairs and boarded the log boat.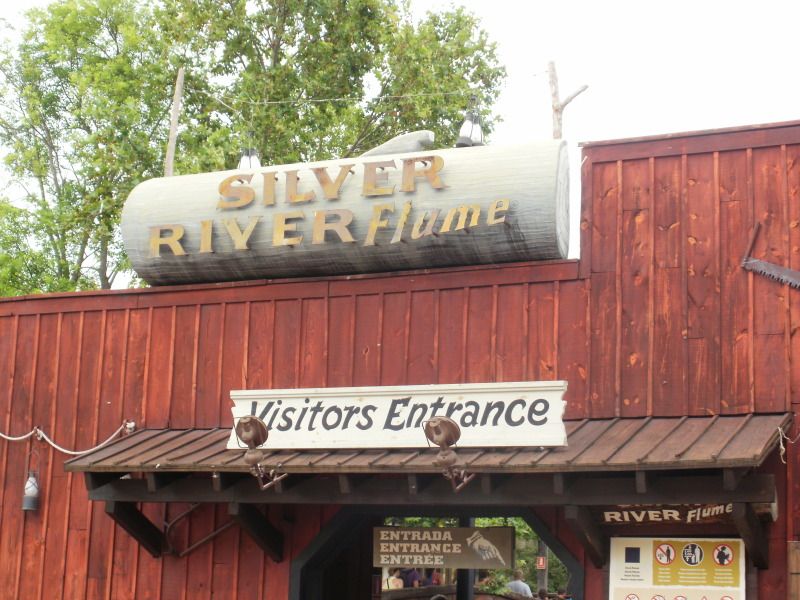 I sat at the front as we head up the pretty large first lift hill. The ride had three drops in total – the last of which was quite big and seemed to go on for ages! Overall it was a really good flume including good interaction with the mine train. This might make you think the entrance to it may be close by but don't be fooled it isn't – it's in a totally different area!
After the soaking (this was certainly welcome in the Spanish heat!) we saw the entrance to the train at Penitence Station. Around 10 minutes or so passed before a train came along and we boarded. Coincidentally in the queue we saw someone in a Stoke shirt!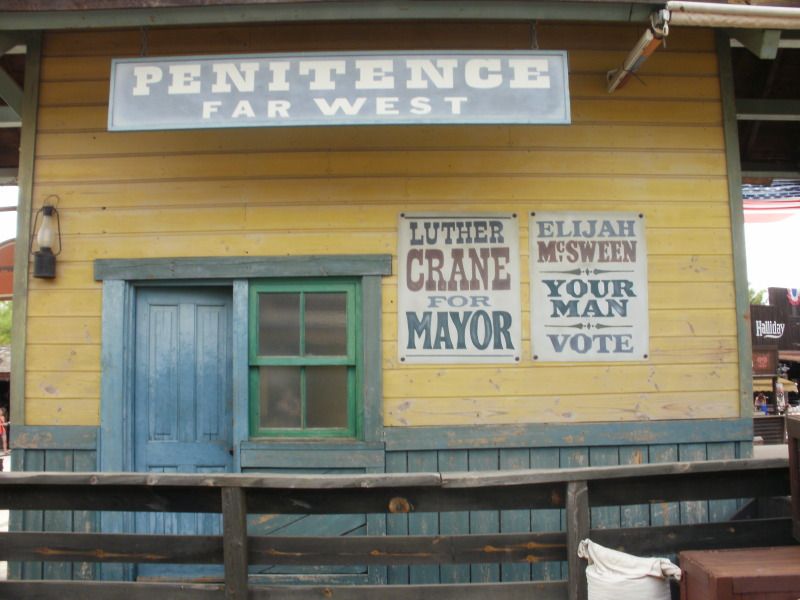 The train gave great views of the park – or at least as far as we were allowed to stay on for. We headed out of the Far West and got up close and personal to China for the first time giving great views of Dragon Kahn and Shambhala, but when we reached the station in Mediterrània everyone in the train got kicked off. I suppose it helps with making sure there is free space for people in the queue but I couldn't believe they have a train that goes all the way around the park yet you're not allowed to stay on for the entire journey.
Anyway we saw the boat had just come in at Port de la Drassana so we hopped on. The boat went to China (again you have to get off) so, after getting some more beautiful views of the park, we headed for Dragon Kahn.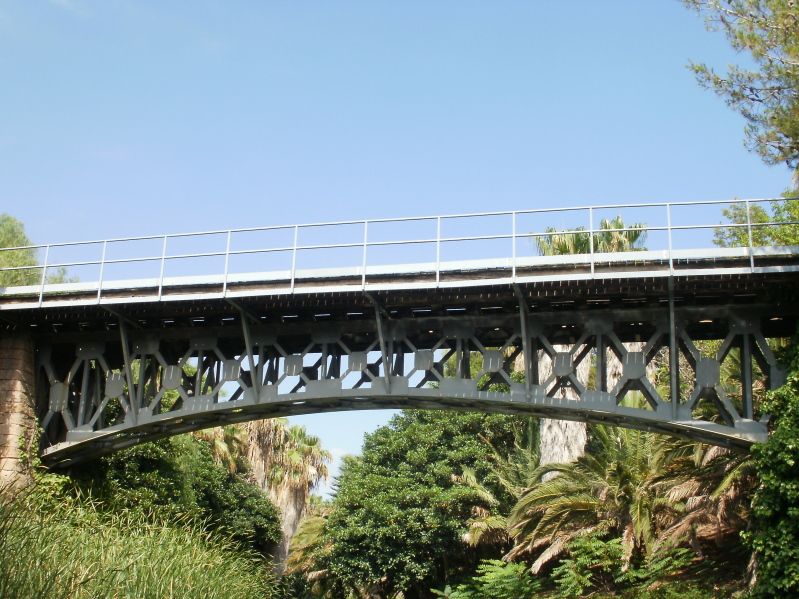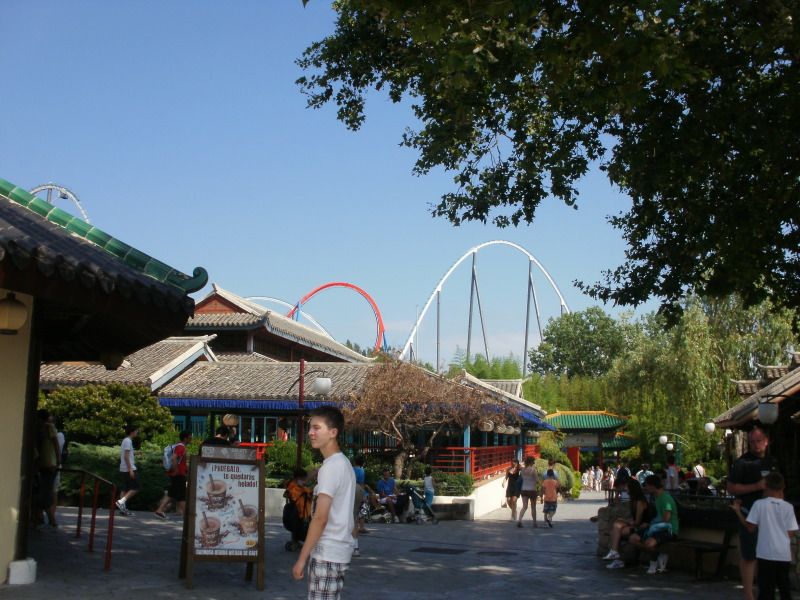 The walk up to the China really was fantastic. The sight of Kahn and Shambhala together really does look awesome and I love the traditional Chinese theme. The queue for Dragon Kahn was about 45 minutes so we entered to see another quite full cattle pen.
We ended up on row 2 and, as we headed up the lift hill, I was really excited for the ride I'd been looking forward to for a hell of a long time. Yet I can't believe how small it felt with the lift hill of Shambhala above you. All the B&M multi loopers I've previously ridden have felt massive and I can't help but feel that Khan has indeed been dwarfed.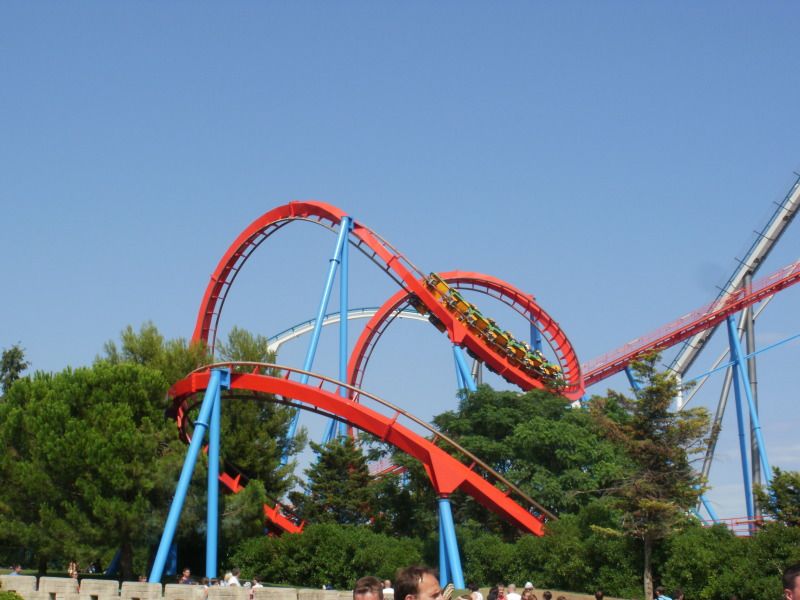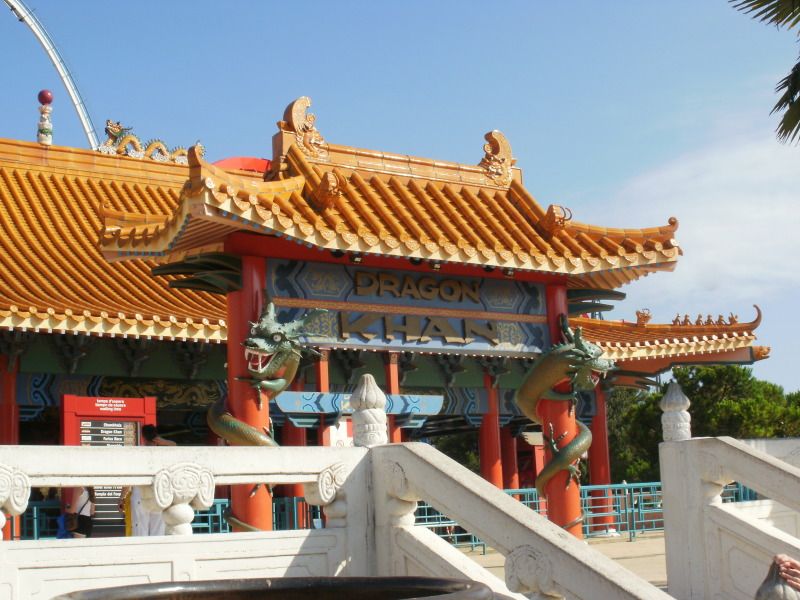 Down the first drop we go and there's a lot of force at the bottom before the loop. The zero-g was another highlight in terms of being intense, but I came off the ride thinking it wasn't really that good. It throws you about a lot and I immediately thought it wasn't as good as other looping coasters I've been on. I really wish I'd have ridden it before Shambhala was built because I think I would have liked it more. It is a good coaster yes, but not one that stands out for me. Our ride on it was probably hindered by several girls behind who insisted on screaming the whole way around.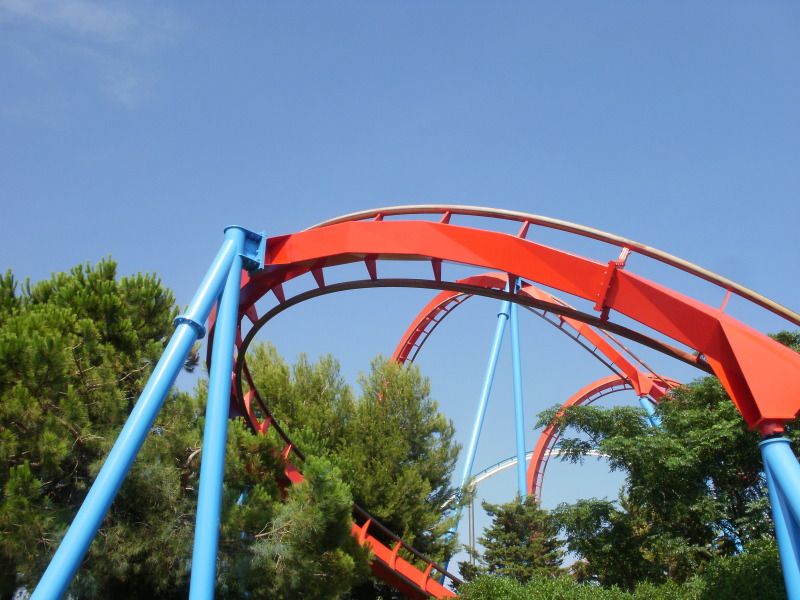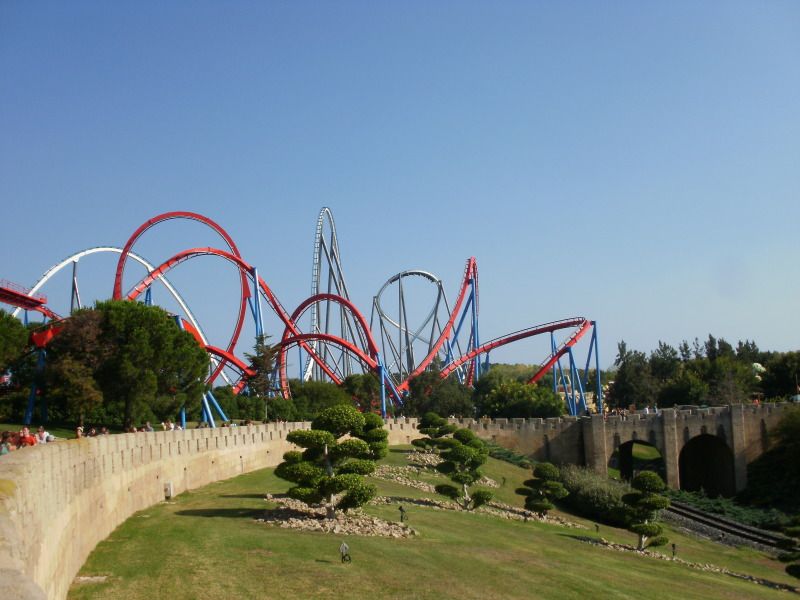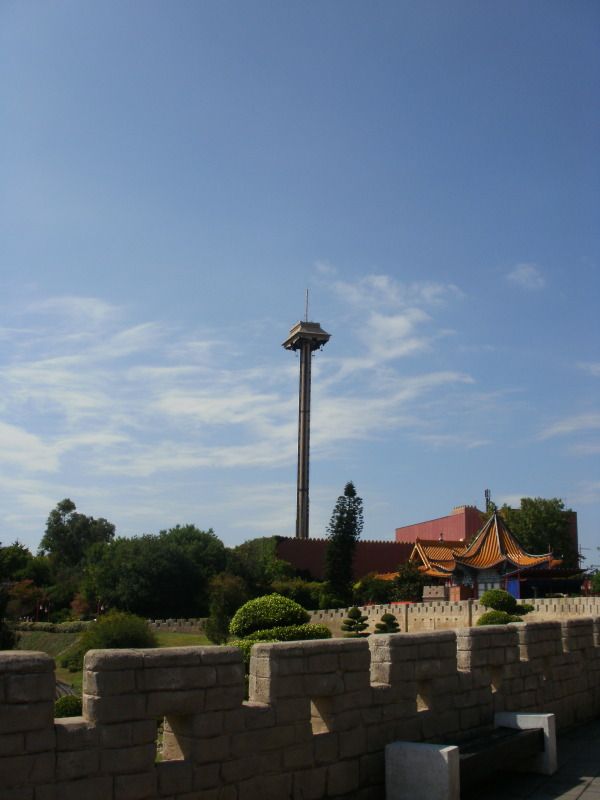 Though we didn't ride Condor, it looks great on the skyline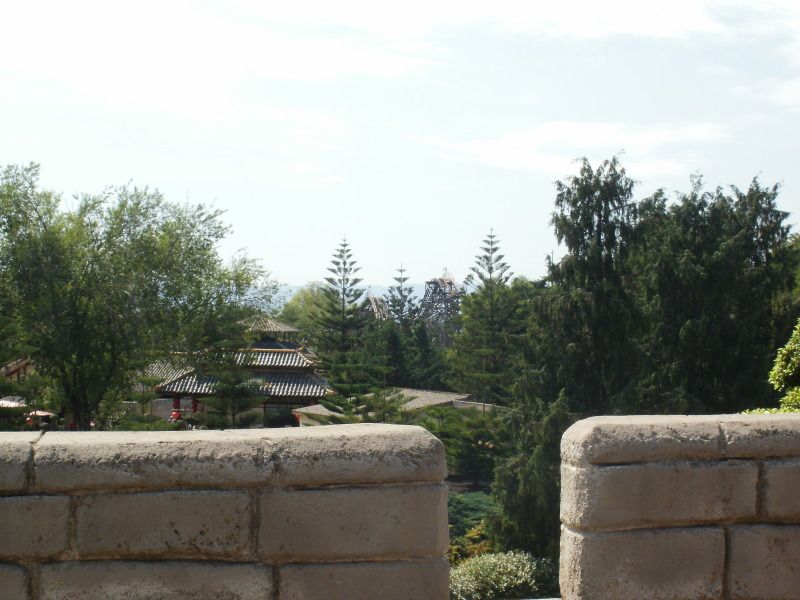 El Diablo through the trees
It was pretty hot now – probably the hottest it had been all day, so we headed to Tutuki Splash. As we walked down I was really impressed with Polynesia. It was a really nice area. We entered a queue of about 15 minutes to see… not a cattle pen! Ok, they managed to squeeze one in near the end, but it was best queue I'd seen so far.
I thought Tutuki Splash was a great water ride. The small drop acts as a teaser for the larger double drop and it goes around the turn at the top quickly which throws you over the final drop. Overall, it was a well themed and really fun ride.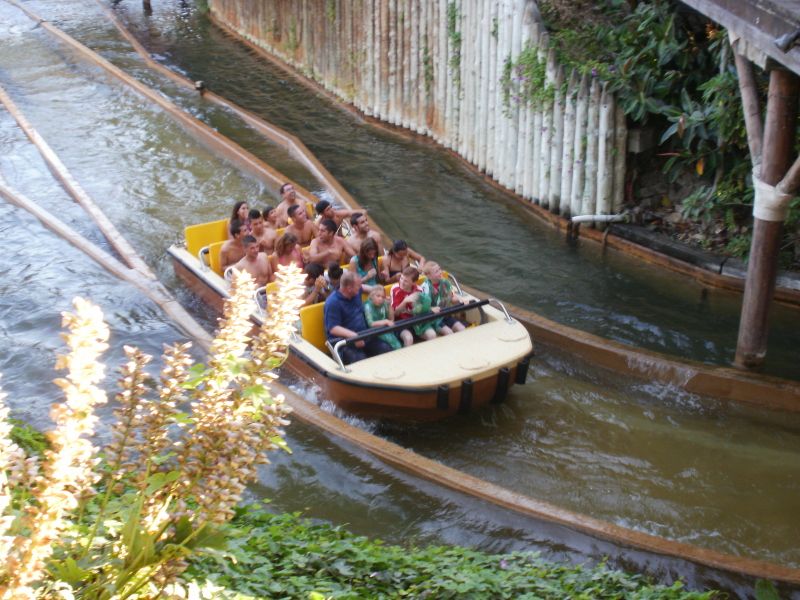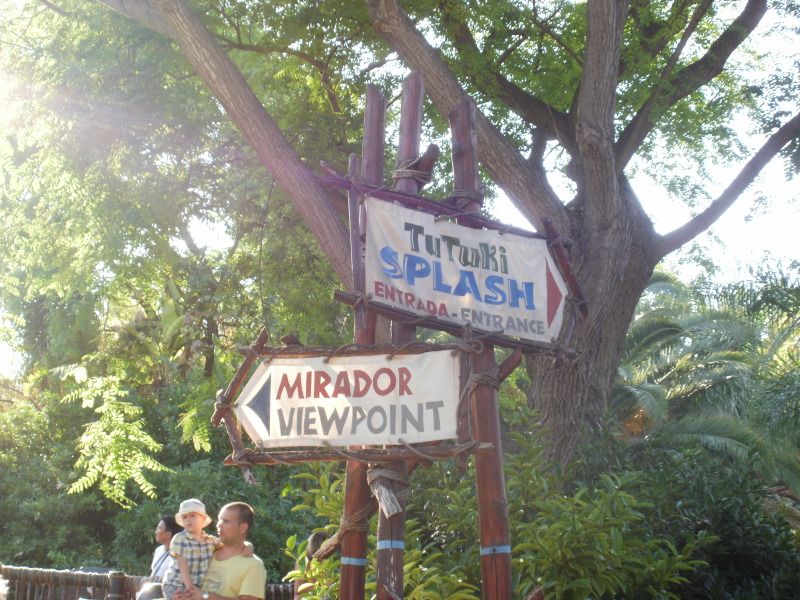 We were all hungry by now so headed back down to Mediterrània to get food. There was a place close to where we had lunch earlier doing hot dogs and things. We went in and there was the cool screen ordering system as I think Martyn described in his Madrid trip report. You order on the screen then move on to pick it up. It worked perfectly for us as there was hardly any queue and people knew/figured out how to use it.
We sat near the water as the fountains started by Baco. It really was a fantastic setting as you see so many times in Port Aventura.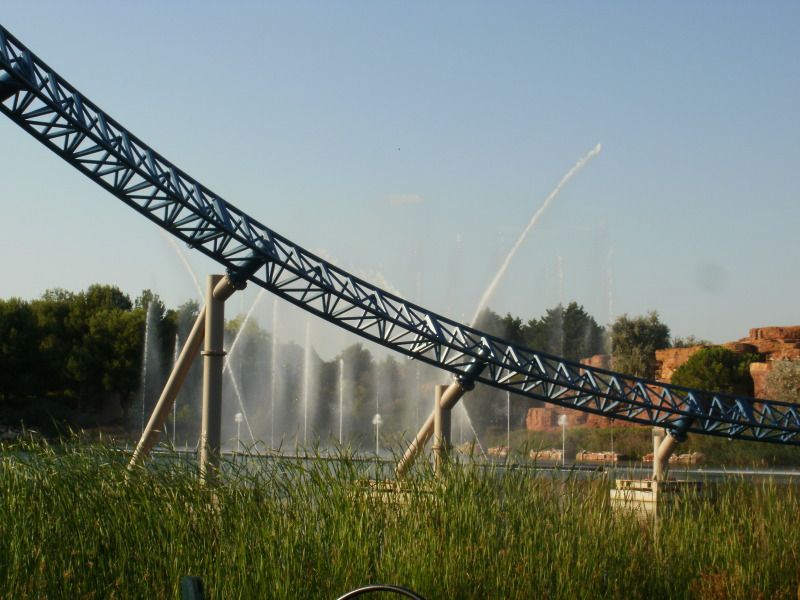 Next up was to be El Diablo – Tren de la Mina. However, I had totally underestimated how far away the entrance was; it's right at the back of the park! It really doesn't look as far away on the map. After walking the long way around past Hurakan Condor, we found El Diablo in its own little area. This gave nice views of the ride again and the area was excellently themed.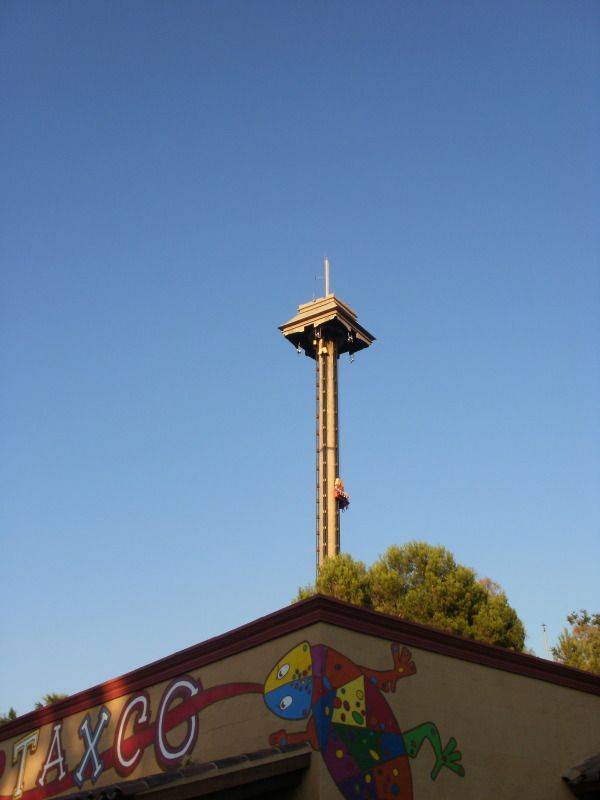 As soon as we entered the queue, which looked to be around 15 minutes, an empty train went around the track and everyone was informed the ride had broken down (well we asked someone what the ride op had just said seeing as it was in Spanish, but you could tell by everyone's reaction regardless). We decided to stick it out after loads of people left and it was back up and running in minutes.
After watching an on-ride video of El Diablo, I didn't think it would be that good with lift hill after lift hill and a seemingly uninspiring layout. However, I actually really enjoyed it! The jerky lift hills aren't too promising but the hop under and over the flume and the last drop are awesome. It was also nice to ride my first Arrow mine train.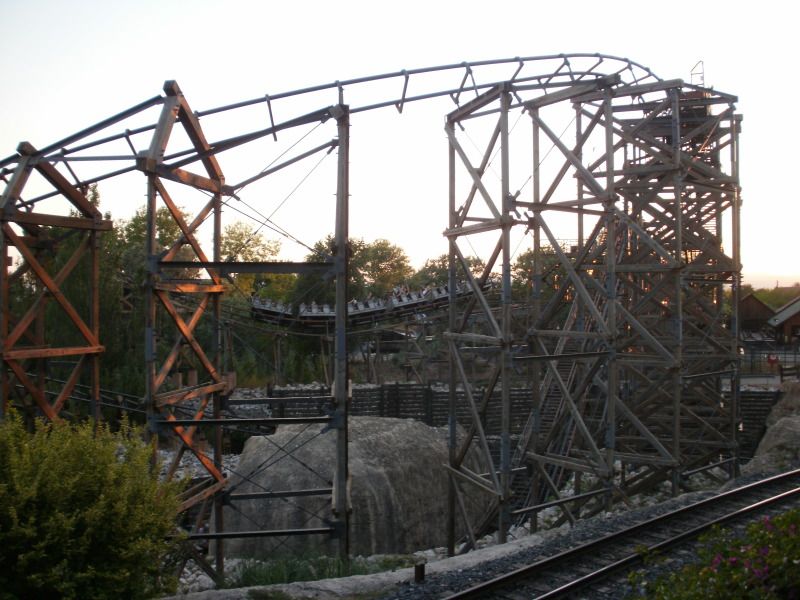 By now it must have been about 9 o'clock, so we thought it was about time to go and ride the thing we'd been most looking forward to: Shambhala. Upon entering the queue, we were greeted with another massive cattle pen filled with quite a few people making us question the queue board time of 30 minutes. Whilst in the queue it had a little break down but we stayed in and after about an hour or so we reached the front of the queue.
With the break down it had actually become dark by the time we came to ride. The station was similar to Baco's meaning when we were standing waiting to go to an air gate, they let all the fasttrackers on which filled the whole train meaning we were left with… front row! Before we rode I was saying how I didn't think it would go as far as my top 4 or so, as the last hyper I went on (Silver Star) didn't blow me away. Heck, I didn't even think it'd be better than Dragon Kahn from my past experience. However, I knew a night ride on the front row would be something special.
Upon reaching the top of the lift hill there was a spectacular view as the chain slowed. Within seconds we were plunging down a never-ending drop and into the tunnel we go. From this point onwards I was just going crazy with what an amazing ride it was. Fantastic floater on all the hills – we didn't land until the bottom of the hill in most cases – the turnaround was awesome and the speed hill, my favourite part of the ride, gave some insane ejector. All this combined with the view of a lit up Port Aventura along with the water splash secluded in its own area made Shambhala my number one.
Once I'd calmed down, I went and bought a Shambhala t-shirt from a nearby shop and then we headed back to villa. We were going to stop for the night shows but we were all pretty tired so we left, which concludes day one of Port Aventura.
Apologies for this very long first part – the others will be shorter! Coming up are the Water Park, a day trip to Barcelona and re-rides on Shambhala as well as Stampida and Sea Odyssey.