(Credit to Paul 999 on New Element for the actual park file: I'm just doing what I would do if I had control over the events of the park)
Six Flags New Holland is a theme park located near Rotterdam, The Netherlands. The park has over 10 coasters and dozens of flat rides spread out acro-
Alright. Brief introduction done.
Hello, New Holland!

Once inside you immediately come across a carousel and a rather faded looking Enterprise. If you look to the left as you walk in, you see Poltergiest.
"Mamma make lotsa Spaghetti!"......yeah, probably not a funny joke.
DANANANANANANANANANANANANA
Huge stone letters welcome us to what I think is the tallest coaster in the whole damn Benelux.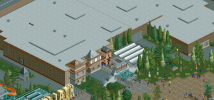 Pirates of the Carribbean. Obvious copyright infringement there. I've been told this dark ride will not live to see 2010.
The western area. In the photo you can see the entrance to Looney Tunes Adventure (Dark ride/coaster), Wild Bunch (drop tower) and Mad Hatter's Feet (Teacups). Rumors are circulating that apparently Wild Bunch may be relocated within the park. Hmmmmm...

Here you can see the station for Wild Wild West, the park's woodie, Wild Down, the park's top spin, and the lift and drop of Splash Down.
More rumors, apparently there may be a "layout modification" on Wild Wild West in the near future. My guess is it means the helix pictured here is going out.
For the kids!
Pictured here is a rare wooden Wild Mouse, a splash battle (New for this year (2005)!) and Boomerang. Also a peek of Wild Wild West's turnaround.
2006 announcements are just days away. In the meantime.......
have a Six Flags day!