It seems as if companies such as B&M, Intamin, Vekoma and S&S have been around forever, it's hard to imagine what the industry would look like without them. I've decided to go back and discover what individual coaster put these companies on the map and why they still have influence in today's market.
This list could really go on and on as most well known manufactures have something that makes them stand out, but to keep it simple I am just going to pick a few out to discuss.
If you have any suggestions yourself then please feel free to comment.
Bolliger & Mabillard (B&M):
Batman: The Ride, Six Flags Great America (1992)
In 1991 Walter and Claude: The dynamic duo, were already a few years into their independent business venture. Six Flags Great America had asked them to design a "revolutionary" stand up coaster a few years prior which they reluctantly accepted, despite not wanting to build anymore amusement rides after leaving Giovanola. The company only grew as they hired more draftsmen and with the help of Clermont Steel Fabricators they got to work on Iron Wolf. While B&M's debut coaster thrilled park guests, it was admittedly similar in concept to Intamin's Stand up model, a product in which the two designers were also involved in.
Jim Wintrode - the general manger of the park had asked the company to build something that was completely new, a coaster that would not only suspend riders under the track, but would also be able to invert. What might be understated is the collaborate aspect between the Walter & Claude, Jim Wintrode and engineer Robert Mampe; B&M had the experience, Wintrode had the vision and Mampe and the technical knowhow, I think as enthusiasts we tend to praise to the ride's supplier more than anyone else involved in the development (which is what this topic is admittedly doing)
Needless to say the Inverted Coaster was a huge success, We've got clones, we've got supersized ones and even terrain versions. It's crazy to think how far ahead this model was, the seat configuration alone must of messed with people's heads and the coaster was far smoother than anything else on the market.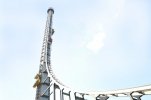 Intamin:
Tower of Terror/Superman The Escape - Dreamworld/Six Flags Magic Mountain (1997)
While I could of named many coasters that Intamin had previously designed prior to 1997, none of them represented the suppliers high minded ambitions better than their Reverse Freefall Coaster. As we all know the coaster war was heating up in the 90s, the bigger the better was the mindset and the Swiss manufacturer not only raised the bar, but threw it out of the stadium with two coasters that were set to be the tallest and fastest in the world, both being built at the same time, thousands of miles apart.
This project(s) was not without it's problems though, the more ambitious the ride, the more challenges you have. Originally Superman The Escape was meant to open in June of 1996, but due to technical issues with the LSM launch system the ride was delayed until the next season (something that I am sure the park won't repeat)
Superman's Aussie bro opened 8 weeks earlier at Dreamworld and briefly held onto it's record breaking glory until the American swept in and received all the media .. typical.
While it might not be at the top of most enthusiasts rankings, these coasters really knew how to make an entrance and capture the public's attention and made Intamin the ballsy manufacturer we know today.

Vekoma
: Boomerang - Bellewaerde Park (1984)
During the late 70's Vekoma were contracted to build the track and structure for Arrow designed coasters being constructed in Europe, not long after receiving Arrow's pattered track design, the Dutch company built their own coasters independently and pretty much won a big slice of the European market.
After manufacturing several Arrow-like corkscrew coasters, Vekoma pulled out the big guns with their boomerang model in 1984, while you could argue that the looping shuttle concept is similar to the Arrow and Schwarzkopf versions, having multiple inversions including the never before seen cobra roll was certainly enough to make Vekoma's model stand out from the pack.
There is some debate about which boomerang is the original, I have chosen the one at Bellewaerde as the breakout coaster as it was the first boomerang to open despite it not being the first one built.
Whether you like boomerangs or not (I have never ridden one) you cannot deny the success and impact they have had on the amusement industry. According to RCDB there have been 54 of these built. 54!! That's just mental.

S&S Sansei Technologies
: Hypersonic XLC - Kings Dominion (2001)
So I've talked about how Intamin were bold for building Superman/Tower Of Terror, well S&S said we can do one better and really threw the baby out with the bath water with this one.
At this point S&S had never built a single coaster, they were most well known at the time for building shot and drop tower rides which were a huge success. Founder Stan Checketts had the idea of taking his air compressed technology used on his tower rides and turning it sideways to create the world's fastest accelerating coaster.
The problem is that as many of you will know, Hypersonic XLC was meant as a prototype and was not truly ready for a park installation despite this Kings Dominion bought the prototype to save on costs and I would also theory that this saved them time as well. Unsurprisingly the ride was plagued with downtime, but that didn't matter in the short term as people who were lucky enough to ride it gave the ultra high speed ride rave reviews and at that time the bigger and faster meant 'better' to the industry so despite it's many issues and ultimate demise, the legacy of Hypersonic XLC lives on with coasters such as Do-Dodonpa, Bullet Coaster and Maxx Force.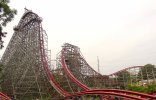 Rocky Mountain Construction (RMC):
New Texas Giant - Six Flags Over Texas (2011)
This is the only coaster here that I have followed the construction of, back in late 2010 when it was being built I remember thinking why would Six Flags waste so much money on refurbishing an old rickety wooden coaster with steel track? why not just build a brand new steel coaster to replace it? I remember thinking it was all a bit odd, something like this had never really been done and I actually felt it was pointless at the time.
It is now April 2011 and I am about to eat my words, this conversion was far from pointless, it was the best new coaster of 2011.
Featuring steep drops, overbanked turns and a plethora of airtime hills, this coaster showed what the steel box designed track was capable of and as we all know, it was still capable of a whole lot more.
RMC's I-Box model quickly became the most in-demand model with Six Flags adding several of them to their parks in the mid 2010's.
RMC have gone from the small company that maintained existing wooden coasters and worked on the construction of other manufactures coasters to becoming a powerhouse manufacturer that enthusiasts obsess over. It's been a relatively (in my mind) short time that this company was been around, but they have achieved more success in that time then many of their peers.
Last edited: