German strawberry farming company 'Karls' have stated that by 2035 they plan to build 12 more 'Erlebnis-Dörfer' (Adventure Villages), with the CEO Robert Dahl explaining that "the long-term plan is for every child in Germany to be able to reach a colourful Karls family park within an hour and a half". It has however also been rumoured that the company is considering building a park on the West Coast of the US.
Karls currently have five open Erlebnis-Dörfer scattered around Germany (
RCDB
), including Elstal near Berlin, home of the abc rides potato-themed coaster, K2 (
Forum Post
).
The Karls parks are heavily family-focussed with lots of strawberry & farming themed restaurants, shops, and attractions, with the majority of locations featuring the SBF Visa Wacky Worm and a couple featuring the SBF Visa Monorail Coaster. Some parks also have some interesting flat-rides.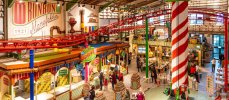 Next to the existing Elstal park a separate 'Bibi & Tina World' is currently in the planning process (Bibi & Tina is a German kid's radio & cartoon series). Construction is expected to start Mid-2024 with a budget of around 45 million € for the whole development.
Karls have previously mentioned that they are very aware of the Knott's Berry Farm precedent but have never (to my knowledge) said they are willing to expand into the thrill market. I personally think this is a huge opportunity missed especially at the Elstal location with a large young population nearby in Berlin, no other decent parks within 250km, and clear financial backing.
Anyway, potentially a park operator to keep on the radar, and string into any Germany-tours you may be planning. I will make sure to post any 'interesting' coaster news in this thread
Source 1
Source 2
Source 3
Source 4