This trip report is going to cover two consecutive weekend trips. The first trip had been planned a month or two in advance as a way of taking advantage of a ticket offer for Parc Asterix and the three day bank holiday weekend at the end of August.
Saturday 29th August
Patrick stayed over at mine on the Friday as we left at a silly time in the morning to get over to Croydon where we were picked up by Benin and Tarin. We then drove onwards to the Eurotunnel. Luckily we got there early which allowed us to grab some much-needed caffeine in the waiting area. The journey went by without anything of note and we arrived at our first park of the trip a bit earlier than anticipated. The car park for Dennlys was filling up quickly and there was a huge amount of people waiting at the gates to get in as there was still a good 15-20 mins till opening. Once the park did open there was a huge bottleneck which caused lots of faff.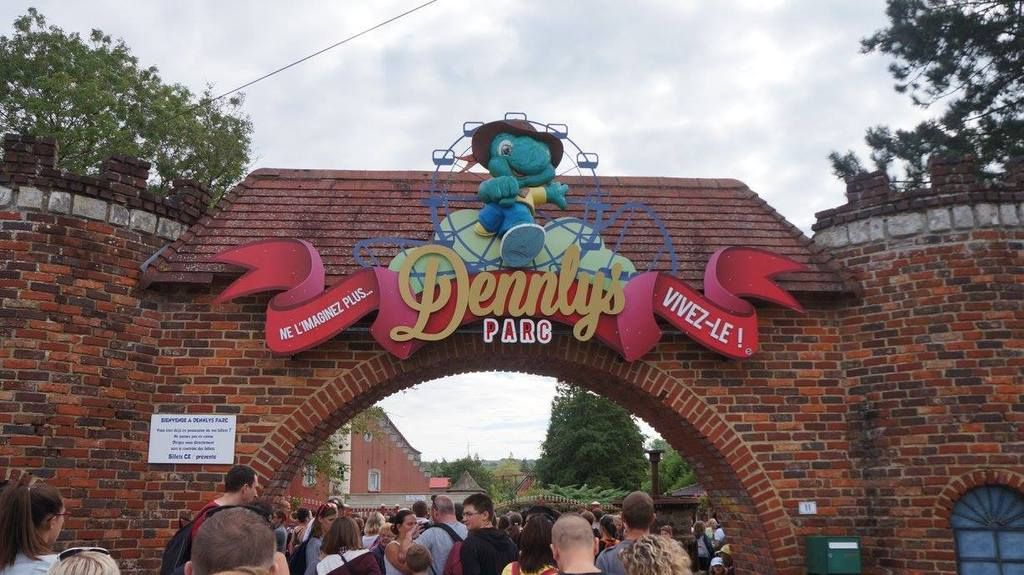 After a quick loo stop we soon discovered that Nitro was due to open at 12:30. We had planned to leave at 12 so we had to be prepared for later spite just so Benin and Patrick could get the Nitro cred (Tarin and I had been to Dennlys before). So, we continued onwards with the next cred, Le Furio, a family Soquet. The operator was pretty efficient which is pretty good considering he was alone and there was quite a queue. I quite like this coaster, then again all Soquet are pretty fun, good solid family rides.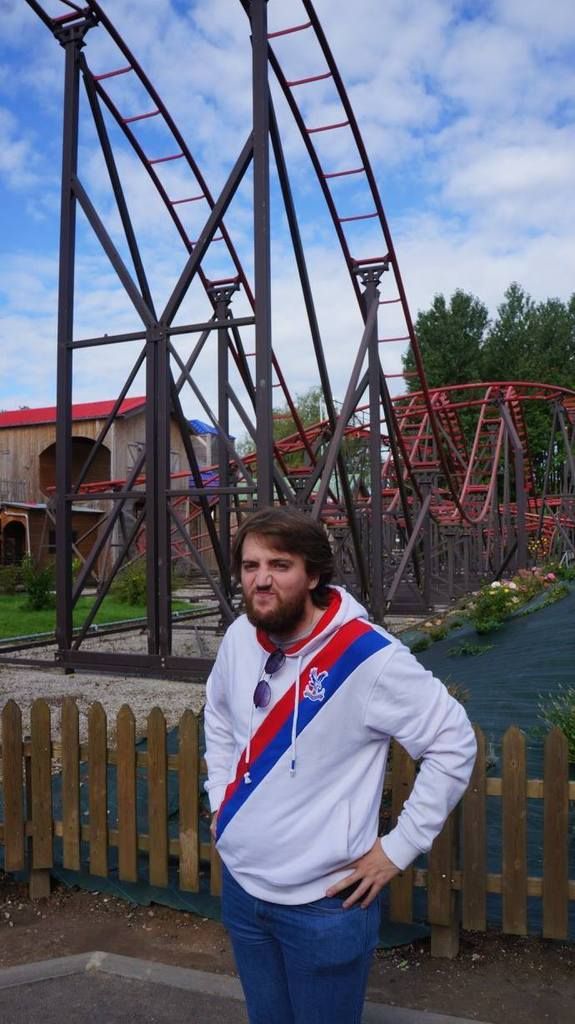 potential spite
We then wandered over to the new kids rollercoaster Voltigo. It's one of those tiny new Gosetto spinny coasters which appear to be popping up all over the shop. It was a shame they built it over the piece of land which used to have the crazy bikes with odd wheels etc. Still this is a nice addition and it's bright colours liven the area up a bit. I think we were all a bit sad when the ride didn't actually provide much of a spin and it went around its little circuit way too many times.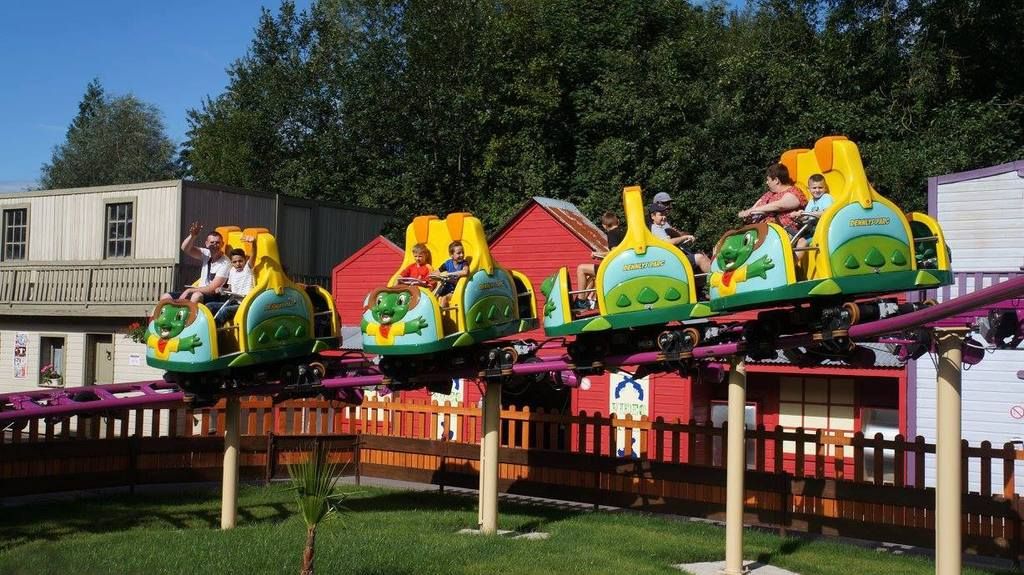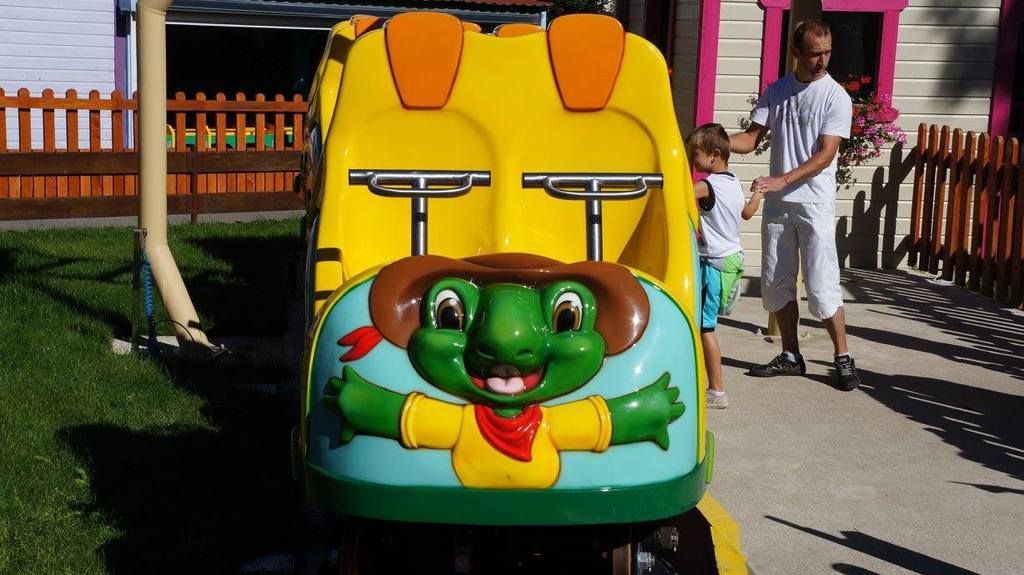 I love the little park mascot, it's a great little design. We still had some time to kill before Nitro opened so we decided to queue for the shot tower. Yet again the operator was super efficient. The ride was also great fun, some lovely airtime.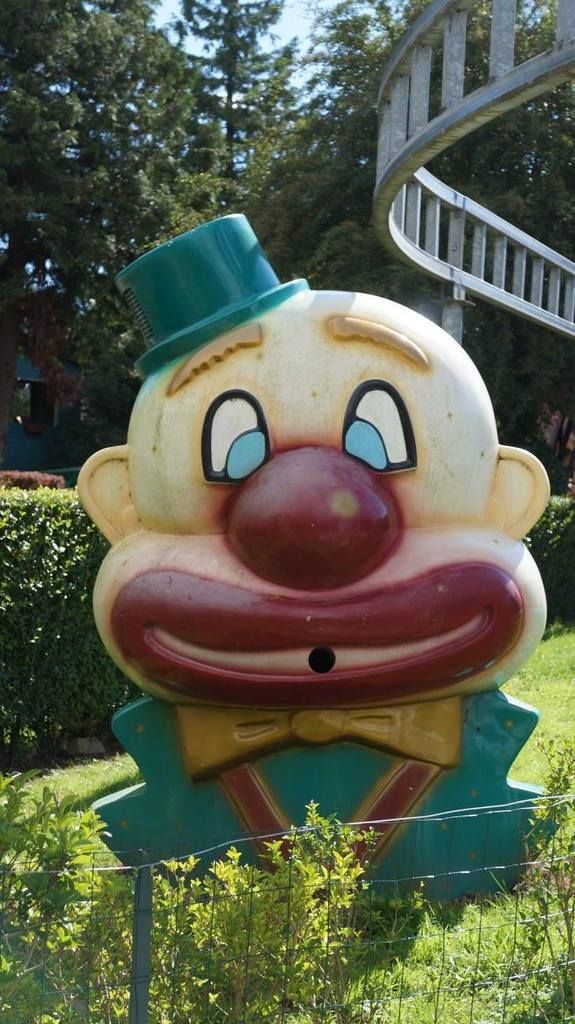 just what is this?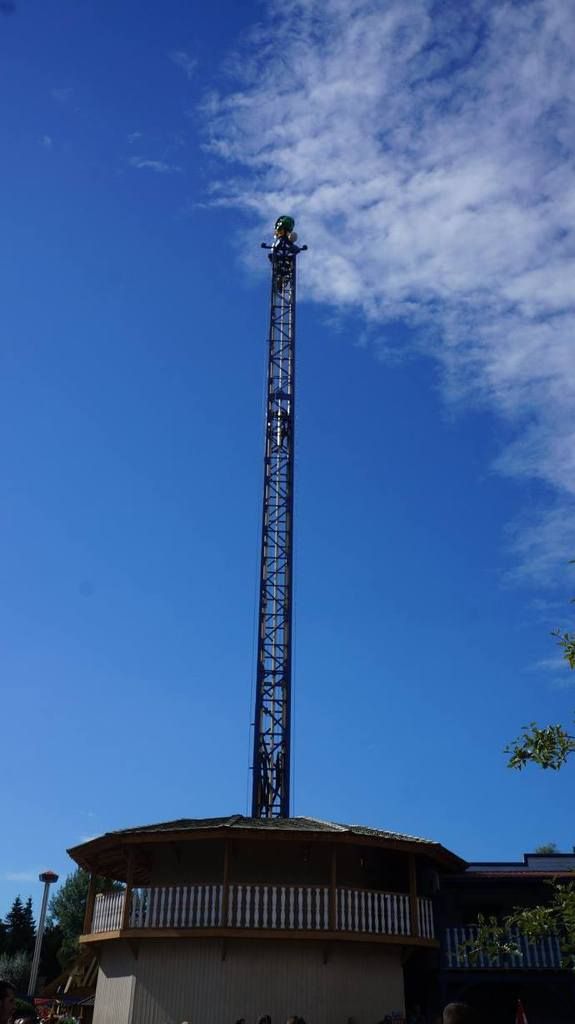 We then had a spot of lunch in a cafe by the entrance. Had a very nice baguette.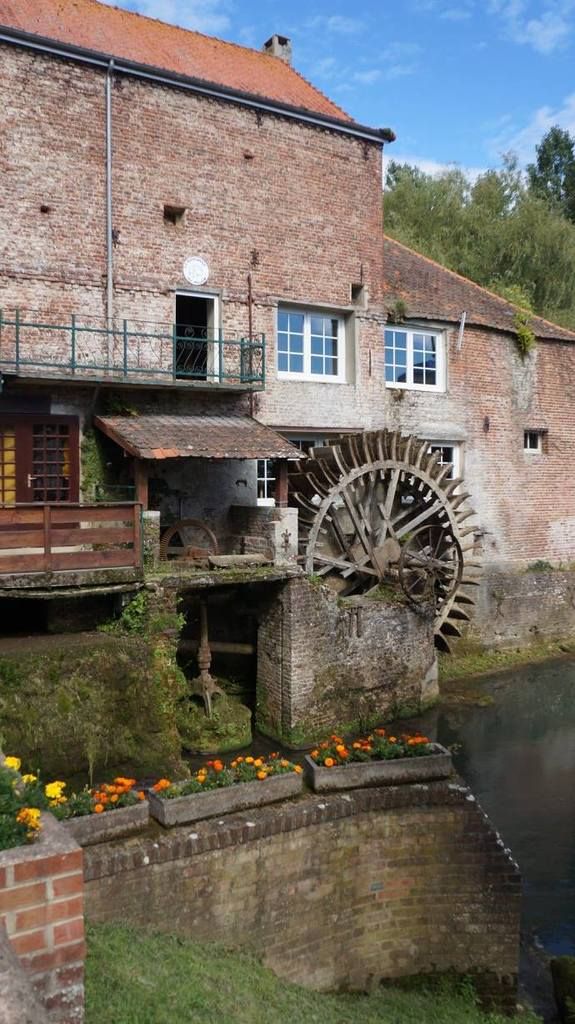 We then joined the mass of peeps waiting for Nitro to open. Wasn't looking forward to this queue as it was more of a scrum than a queue to get into the queue. Still 12:30 happened and a staff member opened the queue for us. We had to queue for some time but with some banter the time passed nicely and we were soon boarding one of the poorly designed coaster cars. The first half was ok and then it just snaps and becomes really violent and not in a good way. Seeing as this wasn't my first time riding this I should have been more prepared but I forgot how lethal some of those 'transitions' are.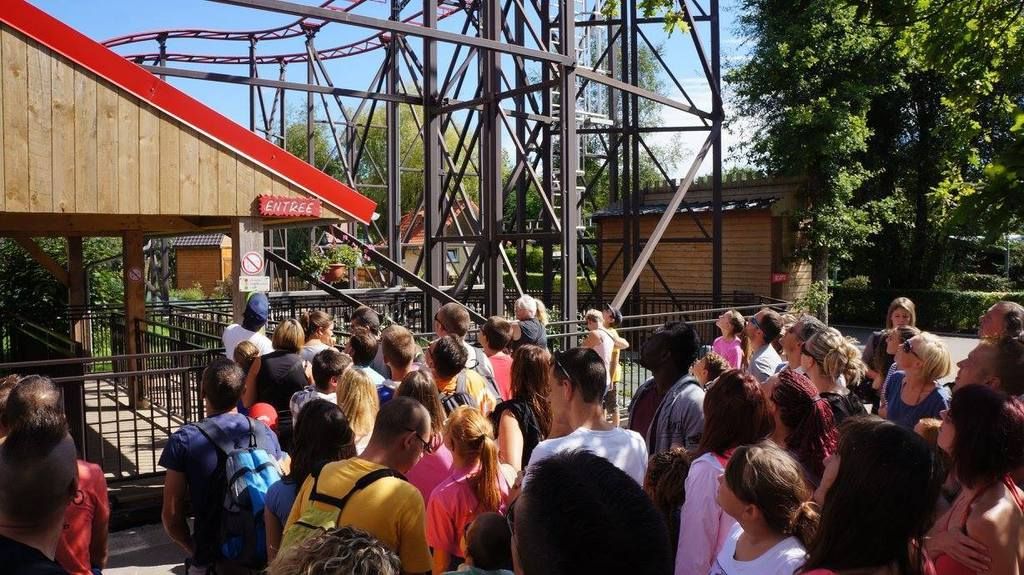 We then legged it to the car and onwards to our second park of the day, Parc du Bocasse. I really quite like Dennlys, it must be fantastic for locals with kids, there's a decent selection of attractions and fun ones at that. The setting in an old farm is also quite nice and the green areas provide quite a natural and nice atmosphere.
With none of us knowing much about Bocasse we weren't sure what to expect. A very busy car park and a new spinning coaster sitting on a field next to said car park was certainly far from what we were expecting. We got in pretty quickly and headed straight for a loo (a common theme for the day, something about drinking lots on a road trip) - this turned out to be right at the back of the park. After somehow navigating ourselves through the crowds we managed to get to our next coaster for the day.
Just chilling next to the car park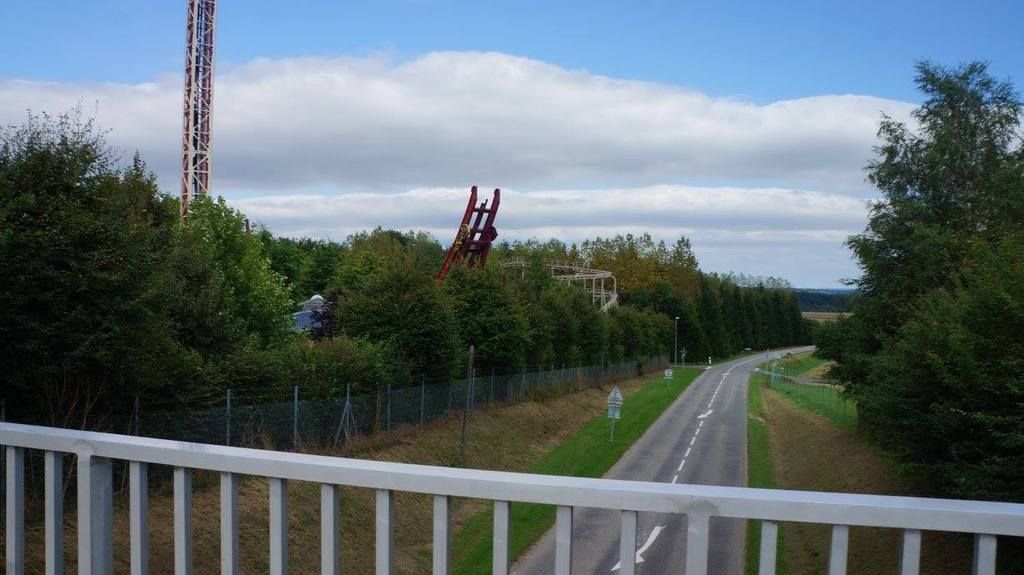 Over a bridge to get to the actual park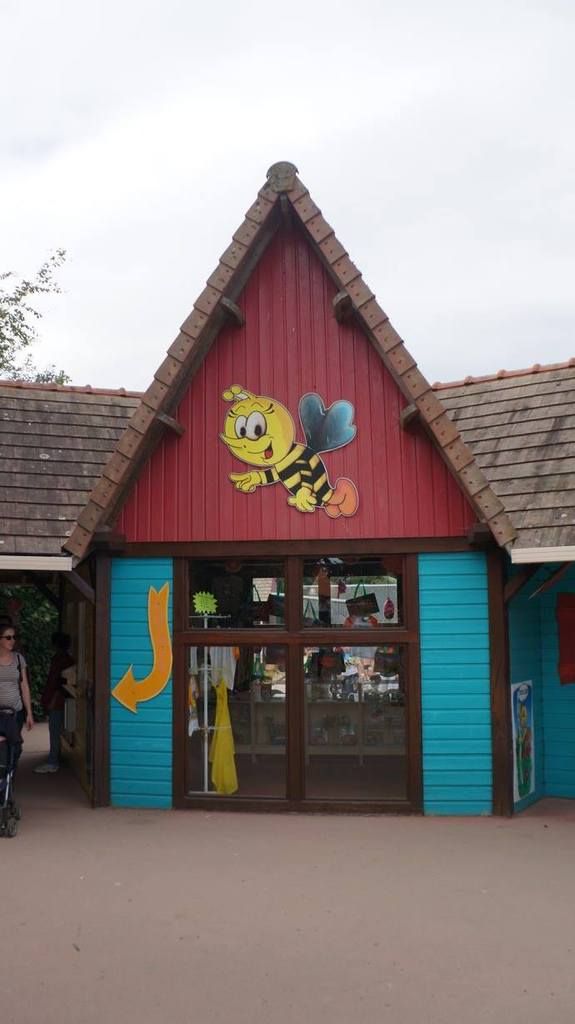 Yet another park with a strong farm theme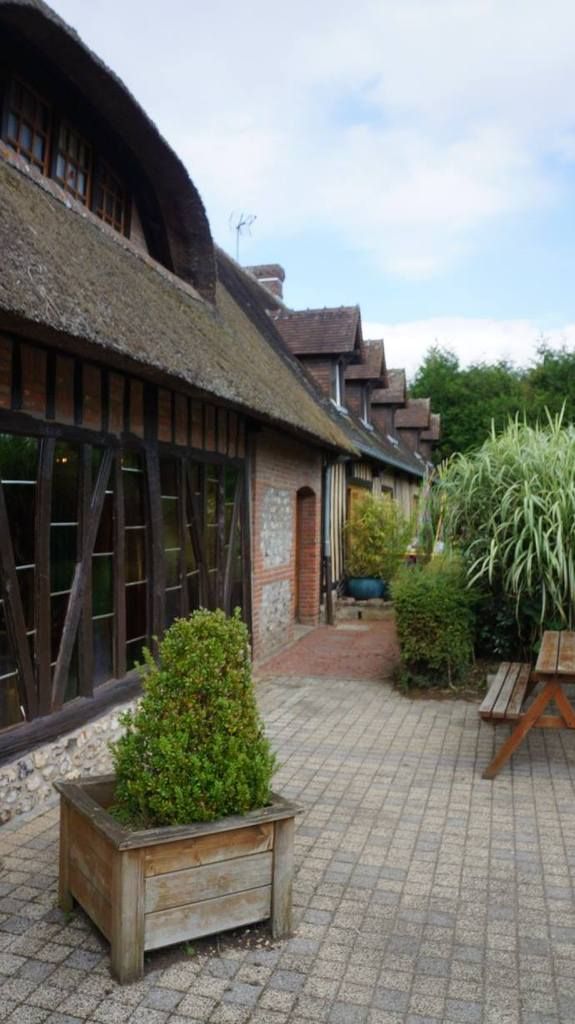 Cats! Lots of cats! No idea why but they all seemed to live in the house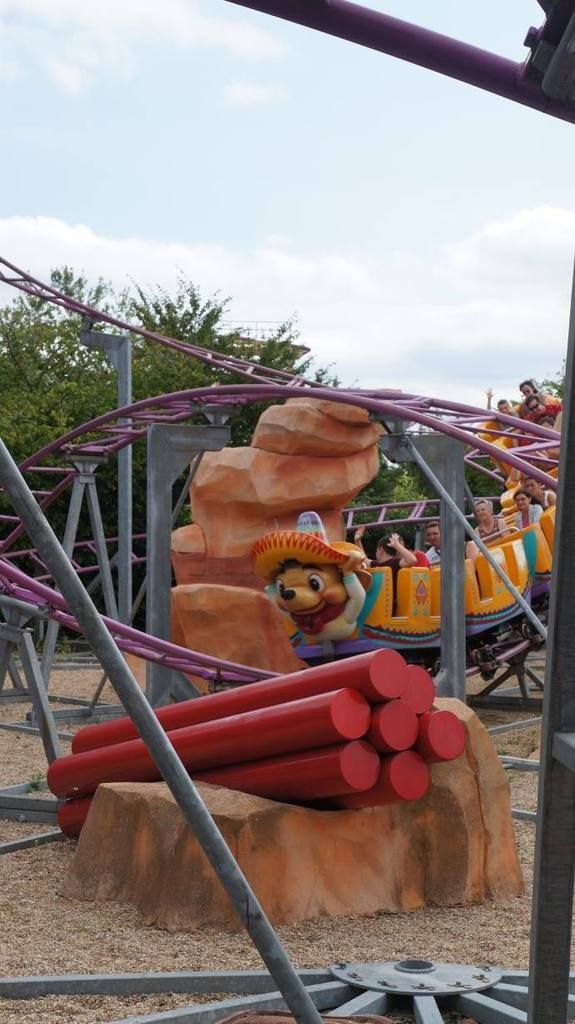 Gonzales was a standard L&T systems junior coaster. It was quite fun, was annoying having to queue for quite some time for it though - especially as we were against the clock. As we were fast approaching the brake run I saw a wasp coming right at me, it luckily hit me in the cheek and not the eye and then from the impact it was flung behind me and into Tarin who proceeded to kill it after it stung her, it looked painful.
We then made our way over to another Soquet, Train de Mine. This also had quite a queue but we were able to spend that time watching the coaster do its thing and living in fear of more wasp attacks. The ride itself was good fun but maybe not as chaotic as the layout looked. I love Soquet coasters though, so peculiar yet really solid enjoyable family coasters.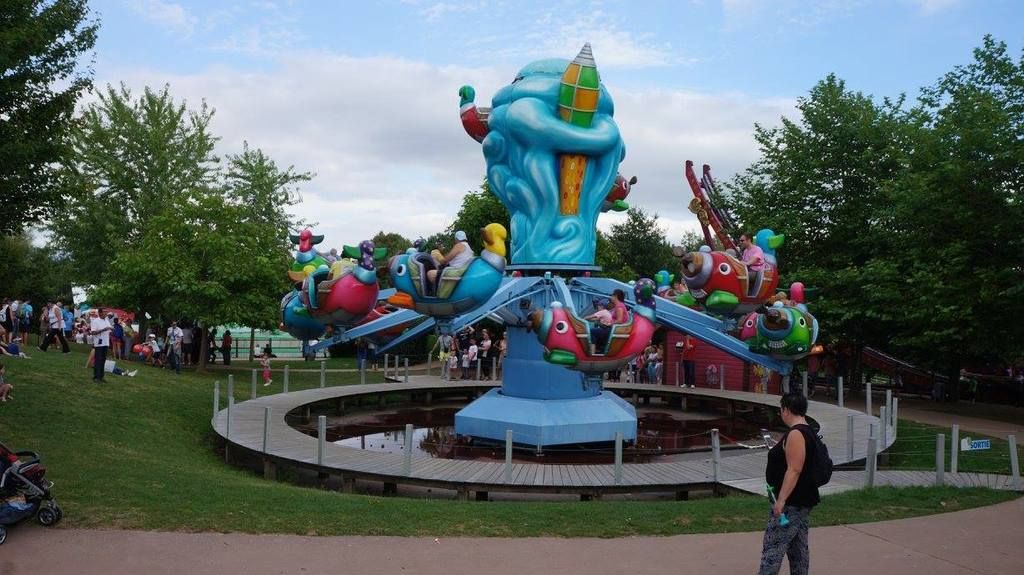 This is a thing
This was a closed thing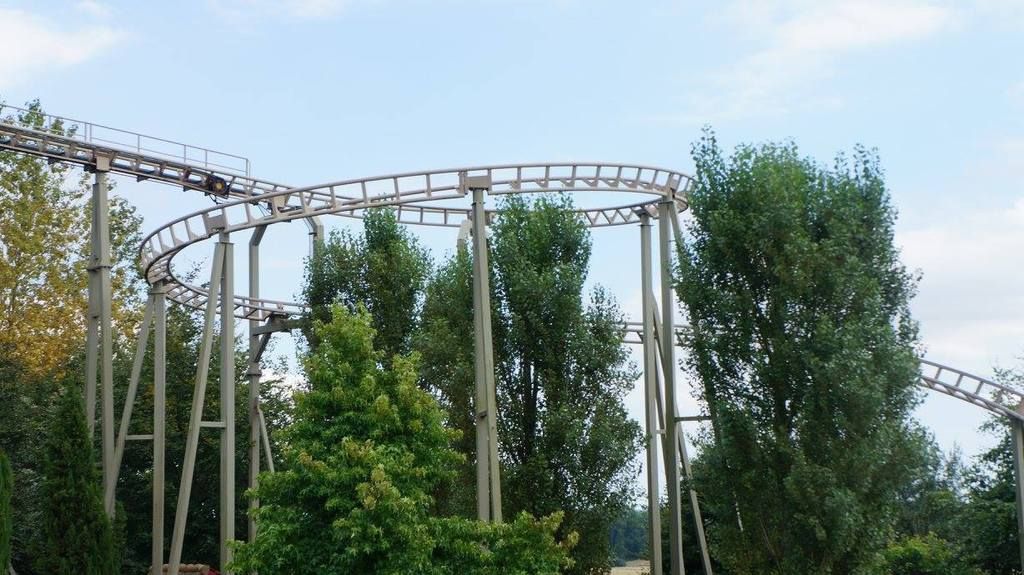 We then left the park for 'Jurassic coaster' - you have to pick up a wristband for it upon exit of the park. Something told us they didn't quite think this plan through. There was quite a queue for the coaster which then wasn't helped by another break down (we saw one on the way in). Burdenous, a further delay in our journey was not what we needed. Soon enough an engineer arrived on a bike, proceeded to turn it off and back on again and all was good to go. While we were waiting we were amused by the children randomly playing on the hillside. The coaster was very standard, albeit smooth.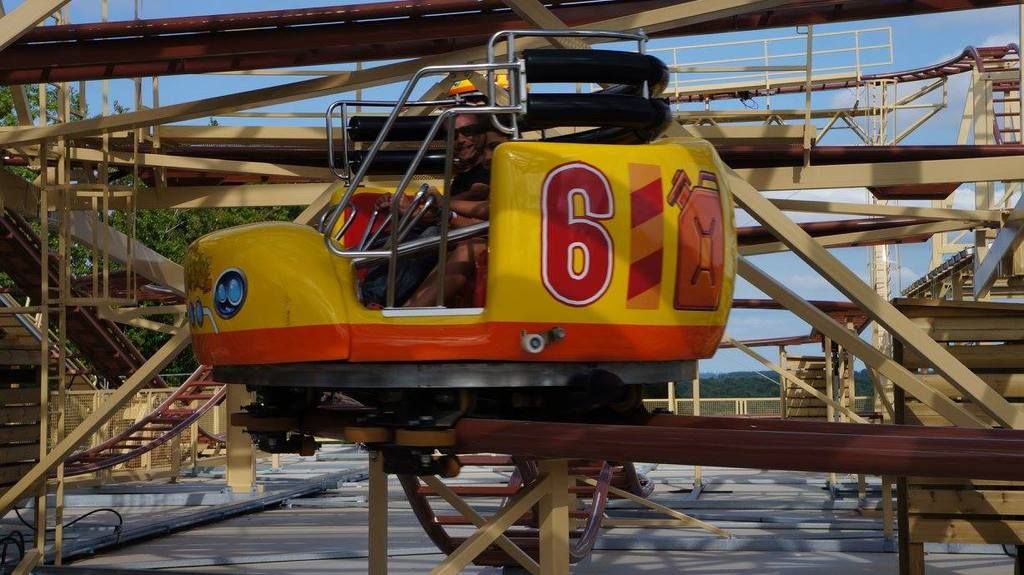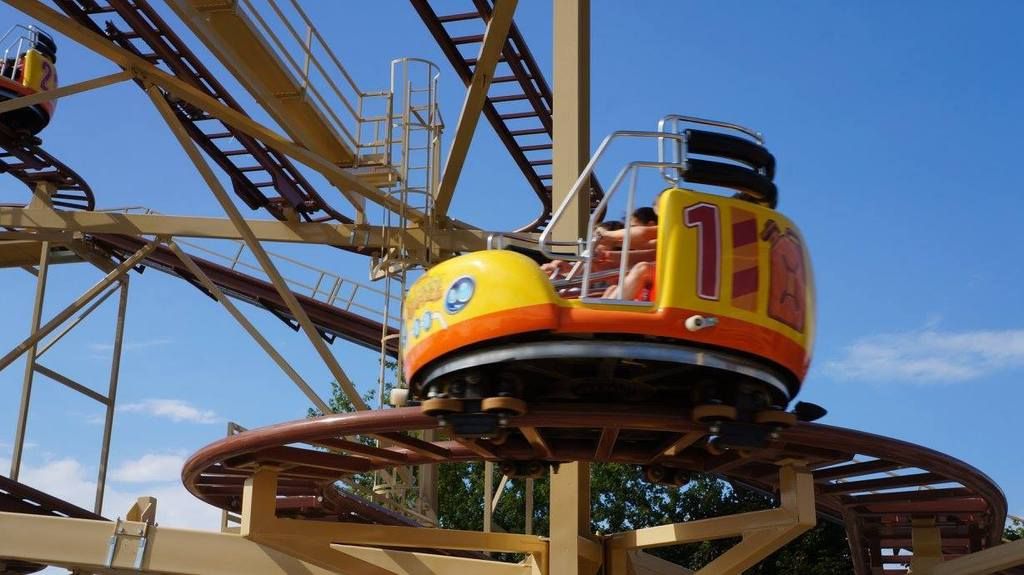 Bocasse was an odd park, it felt really crammed but that could have been to do with how busy it was. Yet again it seemed like a nice place for local families but I think Dennlys is far superior in terms to the overall quality. It was then a dash to make it to our third and final park of the day. We were all pretty tired by this point but Benin was a trooper and got us to Jardin d'Acclimatation in good time. We somehow managed to find a spot to park the car fairly quickly. The lady on the ticket desk was being burdenous and we had quite the language barrier. We purchased our tickets and headed in to find the creds. First up was Tacot Express, yet another Soquet! This one was quite nice and had an awesome tunnel finale!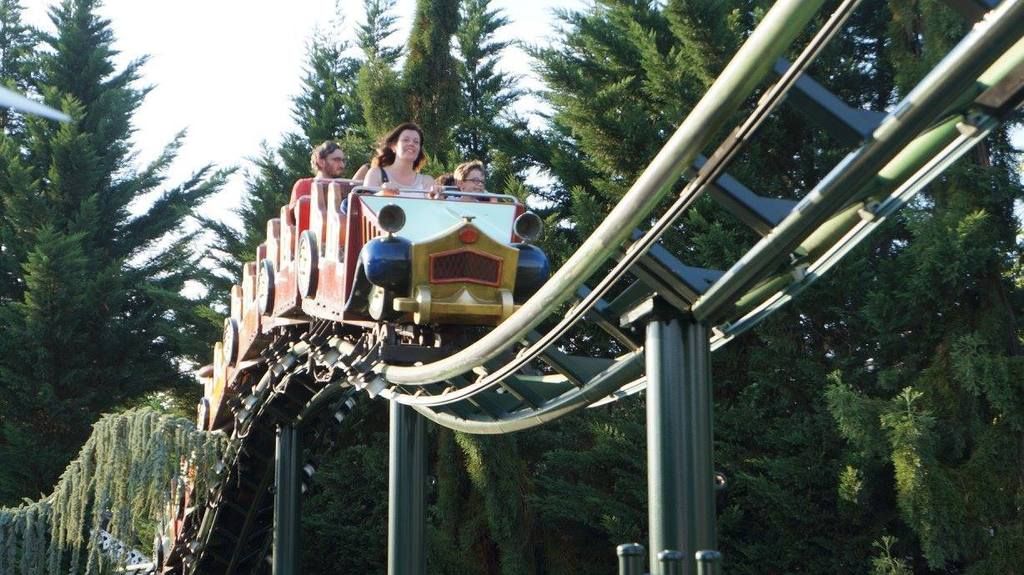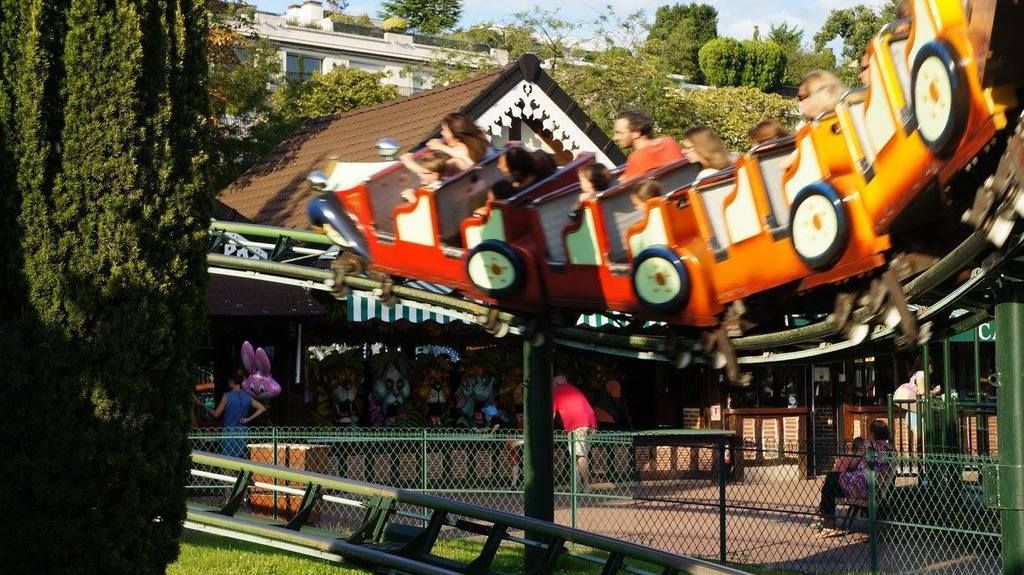 So after that barrel of fun it was on to the next coaster, Dragon, which is yet another Soquet! Our fourth of the day, made me happy in the face. This one was also enjoyable but not as good as the Tacot Express.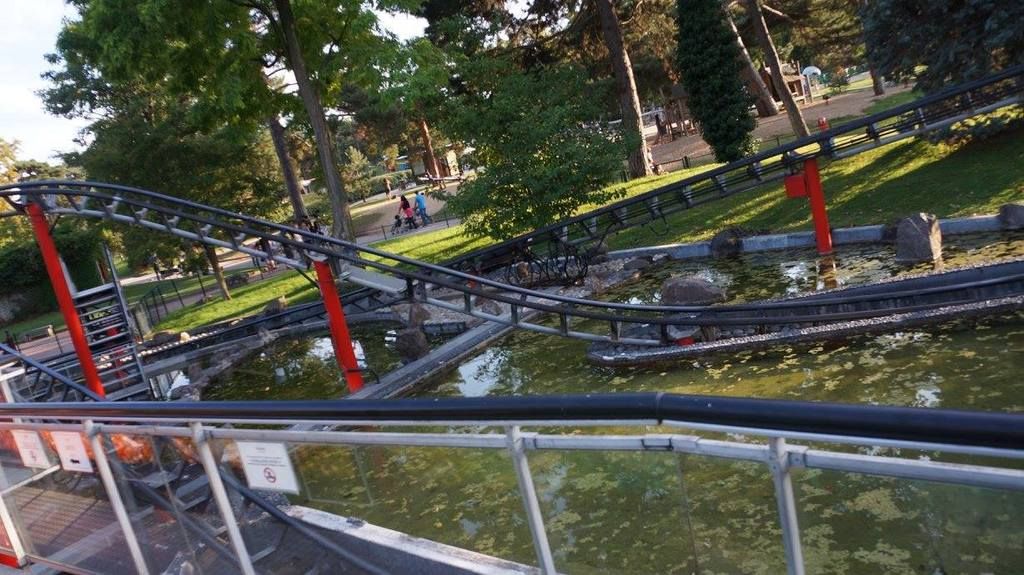 The park is really large and I've visited before (rides were closed) and it's just a really nice place to be, especially on a sunny afternoon like when we were there. On my previous visit there was a large building under construction, its now complete, I have no idea what it houses but the architecture of it is fab.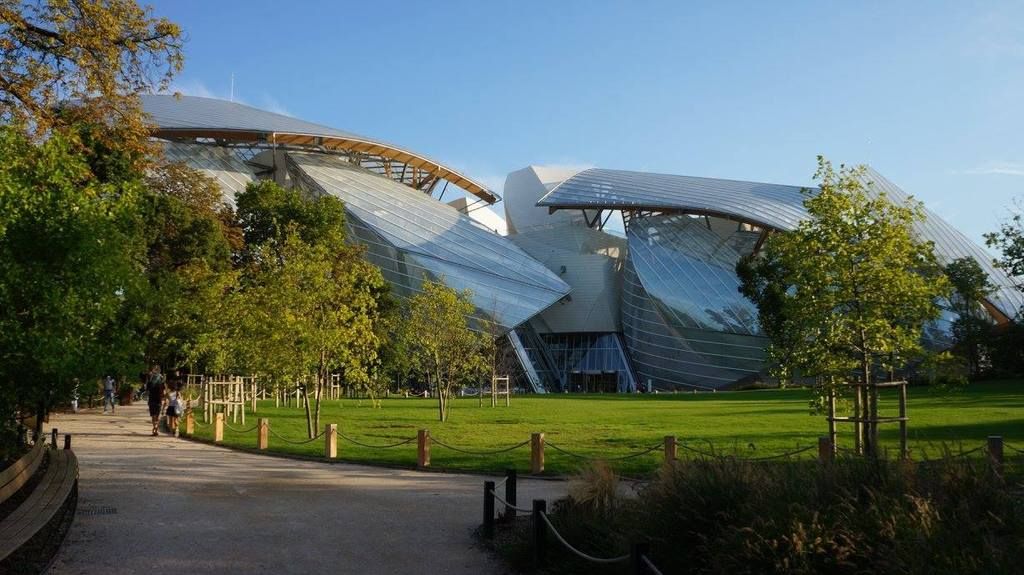 There's also a really old pigeon lodge thing...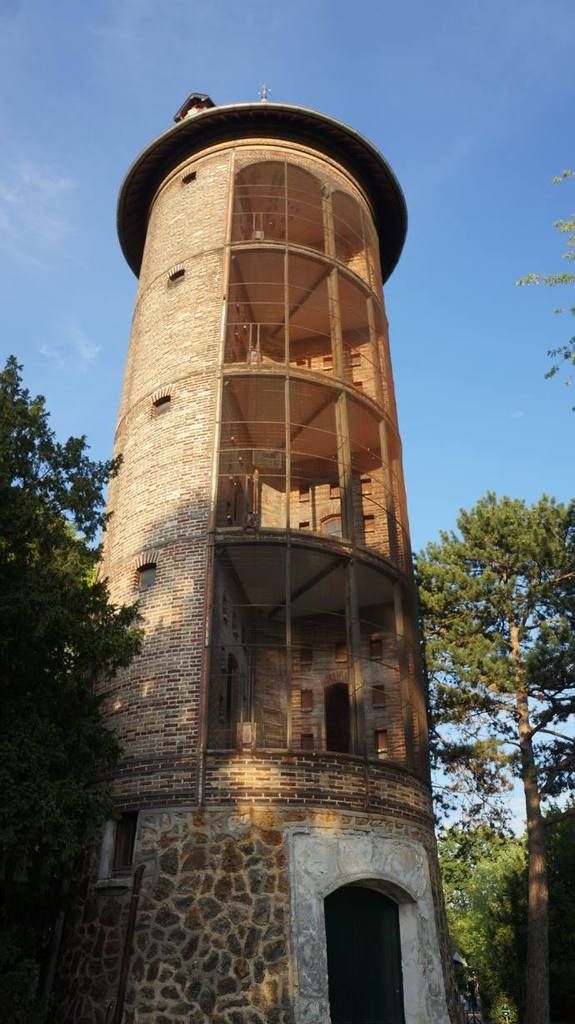 We then made our way to the third and final coaster before we headed on to the hotel. Papillons d'Alice is a really unique Reverchon spinner, with smaller cars and an unusual layout. Patrick and I got a stupid spin going on it, to the point where it was almost too much spinning.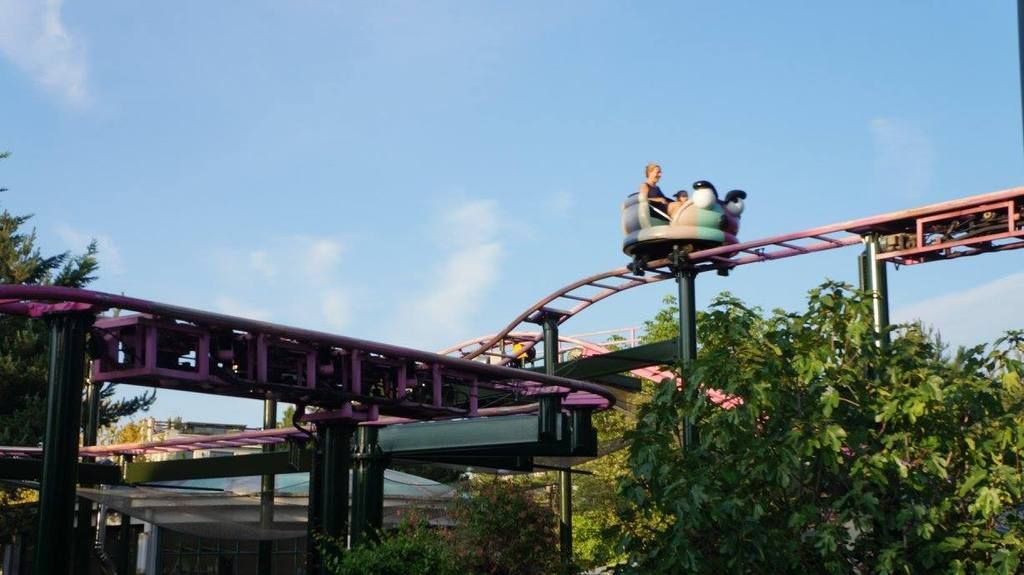 The journey to our hotel was an entertaining one. We had to get to the opposite side of Paris and it was either go around or go via the arch de Triumph, something Benin really didn't want to do. However after thinking we had managed to avoid it we turned a corner and this happened...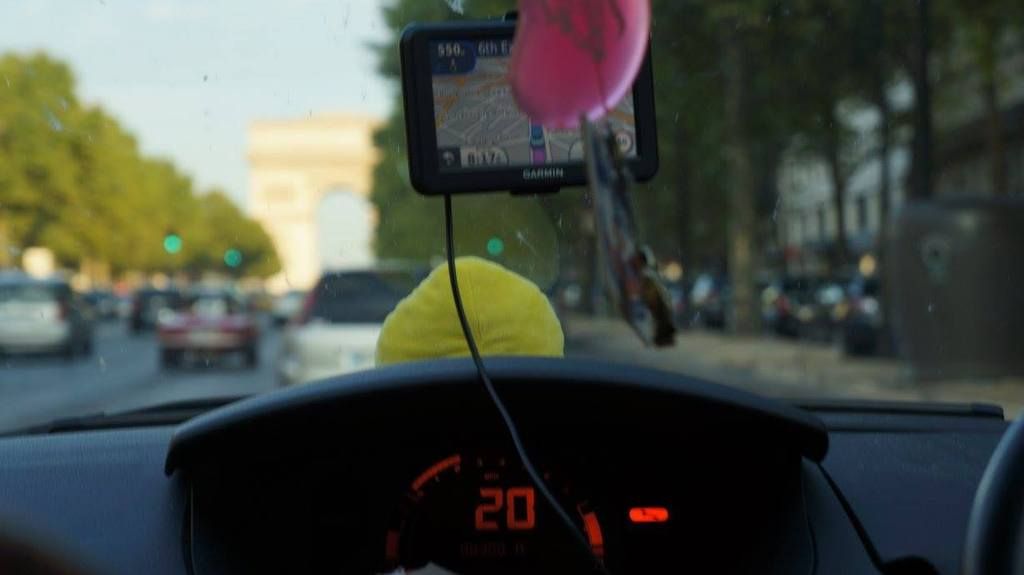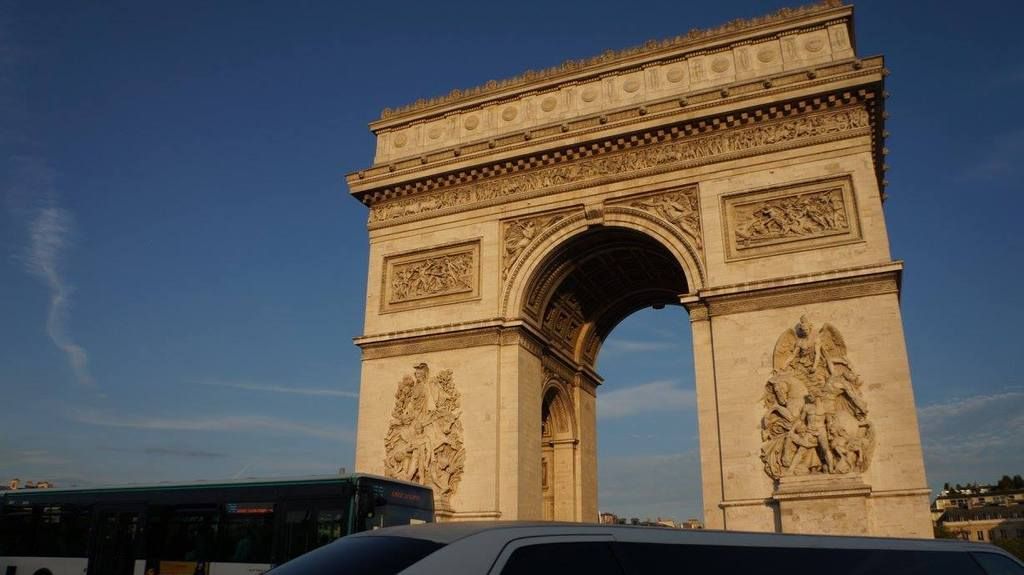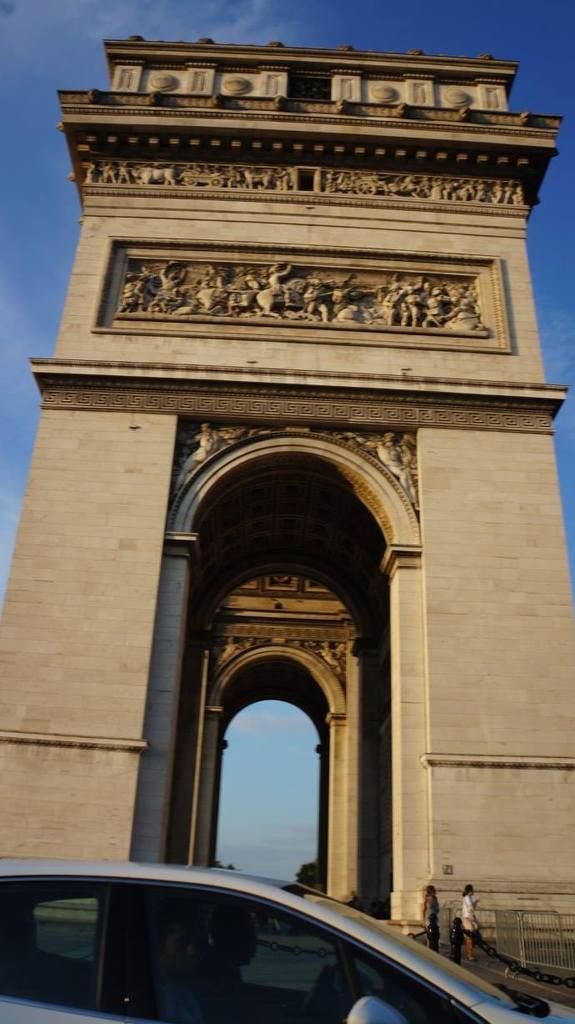 It was kinda hilarious but nowhere near as bad as it could have been. The sat nav then led us to take a really nice route along the river before taking us out to our hotel on the Disney property. We were staying at the Kyriad on site which is a nice hotel and we got the room for a bargain. Check in was nice and quick and after a quick refresh we headed onto one of the free buses into the Village for an evening meal. It had been such an exhausting day so to end with a nice meal at King Ludwigs was relaxing and a fitting end to a good day.
Thanks for reading and I'll be posting day two soon....