We already have a thread for Evergrandes flagship park
World Fairytale Land
in this forum but with the news that Evergrande seem to be restarting construction on the majority of their projects I figured I might as well take the plunge and add a thread for all the others they are working on.
These are all a little different to World Fairy Tale Land and take on a design more similar to Fantawilds roster of parks with mostly indoor attractions.
The concept art for most of them is very similar and theres been no real news on what ride exactly each of them will get, However we do know that several (If not all) Will recieve a new model of Vekoma Junior Suspended coaster (550m models) placed indoors and one park will get an indoor multimedia coaster from Premier.
Below is a load of general concept art and then an aerial picture of all 12 parks i currently have bookmarked (There may be one or two more I've missed at this stage) All images are the latest google Earth images of the parks and all are in a variety of phases of construction, Nanjing and Zhengzhou looking quite far along.
Its kind of no wonder they have such massive debts with so many things under construction at once really.
General Concept Art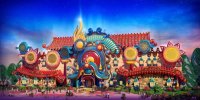 Aerial Views Of Parks Under Construction
1 - Xi'an


2 - Jurong (Nanjing)

3 - Qidong




4 - Ezhou (Wuhan)




5 - Xuzhou




6 - Meishan



7 - Shanghai



8 - Guiyang



9 - Shuchen (Hefei)



10 - Changzhou



11 - Zhengzhou




12 - Kunming


I guess we will have further updates when and if they really have begun construction again.