It's been a while since I've done a trip report (or much at all) on here, but at the moment I'm feeling extremely enthusiastic about all things park-related so I thought I might get down to one of these reports as it's a pretty exciting trip. Haven't done the southern-east part of the US yet (except Florida ofc), so that's all new, but we decided to go up to Virginia too to extend the trip a little; an area which we have "done" before in 2014. Virginia's probably not considered "South" at all, but yeah, I guess I still consider this the "Southern US trip." Bear with, lately I've not been the best or most patient photo-taker at parks so I hope there are some readers among you
. However, I will include some pictures to break-up the otherwise terrifying pages of text! Might have to add in a few extra images for coasters I neglected to photograph. Apologies in adavance.
Part 1: Six Flags Over Georgia
Part 2: Alabama Adventure + Atlanta creds
Part 3: Myrtle Beach creds + Deadwood
Part 4: Busch Gardens Williamsburg + Go karts plus
Part 5: Kings Dominion
Part 6: Carowinds
Part 7: Dollywood + plus some more creds (no alpine coasters... sorry, not my thing)
Part 8: Lake Winniepesaukah
Part One: Six Flags Over Georgia
We flew in on Thursday 8th June and got straight into a pretty major park the next morning. God knows how long I've known about SFOG and wanted to visit, certainly a while. And this is literally the best time to visit so far since the recent opening of their RMC,
Twisted Cyclone
, which not surprisingly was our first stop. We got into the park about 10am through a priority entrance for SF members/season pass holders (love a perk, even if it's small hah). Though you only get in a little bit before everyone else and the rides didn't seem to open any earlier (advertised park opening was 10.30am, as seems to be the SF norm), so it is a small perk. Nonetheless, we were pretty far up the queue for Twisted Cyclone, which became operational about 10.40am. I have to admit, this was a HUGE relief, as I was 80% certain there was gonna be 'technical difficulties' that would inevitably muck-up my planned cred route. But nope, was on the third train of the day, beaming from ear to ear
One more thing to admit - I was expecting it to underwhelm slightly since it was an early-morning ride, though I was at least in the back seat. And, actually, it didn't underwhelm at all. I was very impressed even after just this first ride. It was on the first airtime hill after the sideways overbank when I realised that Twisted Cyclone had really come to play! That ejector was pretty damn intense, and that continued throughout the perfectly spaced out airtime moments throughout the tightly-packed layout. The first half of the layout has more funky elements, but I think it's after that the coaster gets properly intense. It's probably the biggest RMC surprise so far (which tbf is hard to come by given how reputable RMC are anyway). The flow of elements is absolutely spot-on, and every part works well enough to make the most out of a compact, relatively short-lived layout. I wouldn't change anything, it completely fulfills its potential imo, more-so than any other RMC I've ridden so far (though it's not quite my favourite, I don't think).
We went around for a second ride, and surprisingly the queue hadn't built up too much; just a few switchbacks were filled if memory serves. The operations seemed much slower this time though; it seemed they were having problems with the restraint locking sensors or something. A few times the ops said "train is secure" and then suddenly they'd need to check some restraints again. Hopefully this gets sorted for when the park gets larger crowds later this summer. I'm glad at least it didn't stop the ride from operating at all. Second ride was <3
My plan was to now start getting the other coasters, starting with
Dare Devil Dive
, as I know it's reputable as a slow-loader and the capacity certainly isn't great. I was glad to see only a short queue, though it built up somewhat about 5-10 minutes after I had been in it. Then I got to the airgates, and it was this ride that decided to surprise me with technical difficulties. I was more annoyed because I had organised a schedule based around getting to certain coasters at certain times, so delays were a burden (though tbf, they pretty much always are). Thankfully it was sorted in probably 20 minutes-or-so, so not too bad.
The layout of this coaster is similar to Anubis at Plopsaland De Panne, at least in its more forgettable sections. They seemed to neuter the mid-course top hat here which was a bit of shame, not that Anubis' is much fun with OTSRs. I enjoyed the over-vertical drop here with the lap-bars; in general, it was nice to experience the ride with lap bars, though I think with Anubis' fab launch that has a better start. Anubis also makes more of an impression I think, even if it's not all for the right reasons, or maybe it's simply because I've ridden Anubis a lot more (probably that). Anyway, DDD is fun enough even if it's not particularly remarkable, which is quite good-going for the standard Eurofighter.
Next was
Goliath
, which I did plan to ride twice, despite the previous delay. I think it's worth getting an immediate re-ride in on these standout coasters if possible, even if you've got other creds to collect. Goliath was nicely just a station-wait, and running two trains which on these B&M Hypers creates a decent through-put even with SF operations. We rode the back first. It did not disappoint. In fact, it almost follows a similar idea to Twisted Cyclone, in that the layout is a little short for its type, but doesn't waste a second of it. Every second is great really, for a surprising variety of reasons (or as close to variety as you generally get with this coaster type XD). The airtime is strong; I don't know if it's all floater or if it's spilling into ejector at times maybe but regardless, it's strong and sustained, on every hill. There seemed to be trim brake in use on the hill right after the immense downward helix, but it seemed to have little effect on the airtime. I also liked the positive Gs in places other than the valleys on this particular creation; mainly the helix but also the overbanked turn, which leads into the fantastic bunny-hop finale. Gotta love this ride, it's one of my favourite B&M Hypers, behind Shambhala and Behemoth (Leviathan is also better I guess). I guess the fact it's an older B&M Hyper and the drop incline is more gradual is a significant drawback compared with the newer ones, but it's definitely the best of that generation (1999-2006 I'm thinking) and impressively smooth when some newer B&Ms are developing noticeable rattles.
Our second lap was in the front, and obviously, the experience is kinda different up in that seat, but at this time I hadn't decided which I preferred. Though, I did come to a decision on this later. For anyone wondering, I'd put this as my #2 in the park (behind the obvious TC), but the difference is not big.
Usually, I leave kiddy creds to the end, but I had read this one can get quite long and slow queues, which I was not fussed about waiting in. I think this was a good idea, as we still had to wait a few trains (plus very slow loading) and the queue behind us had grown. So,
Joker's Funhouse Coaster
was less of a kiddy cred and more on the kiddy-family spectrum really. It was quite cool actually, it follows terrain to some extent, with two small lift hills: one beginning level with the station and another to take the train back into the station. It obviously wasn't an exciting ride experience, but I do think it's "uniqueness" should be noted, given how unoriginal most kiddy creds are.
We then walked up-hill to the back area of the park (I don't really remember the area names, but it was where you come across Superman and Justice League). I had wanted to be at this area of the park a bit sooner than I got there, but oh well, nothing I could do. Walked up to Superman but it was having problems, so I had my parents stand guard while I nipped across to ride
Great American Scream Machine.
For some reason I naturally expected to find this old woodie to be walk-on, especially given the park was healthily but not particularly crowded. I guess I also thought back to Judge Roy Scream at SFOT which had no queue, even on a Fright Fest Saturday, but then of course that is kind of out on its own, whereas GASM isn't so much. So yeah, there was a queue, and it was made worse by only one train running. Now I'm having a proper six flags day with all its quirks that we love so much. Although there was much more frustrating things in-store actually. I got to the front of airgates and it had started to rain very heavily so the ride expectedly shut-down. Bit of annoying déjà vu, being so close again, but that was hardly the worst of it. The heavy rain eased off within about 20 minutes - fine, should start testing soon and restart operation. WRONG! It was an hour or just over before they started testing the damn ride, and with Blue Hawk in clear view, seemingly any coaster. It was a very nasty wait. It was very hot, the jet lag was starting to set in, I was hungry, and generally quite depressed. I can't believe it's necessary to wait over an hour to resume operations on rides post-rain, it wasn't stormy or anything. Bloody six flags, you pushed me too far this time. I guess I could've left the queue to get lunch but I just felt disheartened about the idea that all this waiting would be for nothing, so I stuck it out. So after re-living that I'll stop moaning and get to the ride, which is probably gonna be a much shorter paragraph XD
Well, it was actually a fair bit better than I expected. I always enjoy these older woodies for what they are, personally, even if they're usually quite forgettable. I'd heard moaning about this one becoming rough and crap since they started using the old Georgia Cyclone trains. I disagree. I mean, it's a bit rough but I think it beats you up in a nice way (I guess that idea won't make sense to some, hah). Also, it has some surprising moments of airtime, which few standard wooden coasters of this age do in my experience. So yeah, maybe it's the surprise factor or the fact I was just so bloody glad to finally ride it, but I'm a fan of this coaster.
So... I was finally reunited with my parents, but I didn't want to sit and chat as rides were just opening up again and I wanted to get in the queue for
Superman: Ultimate Flight
before that got really long. This was a certainly a good choice! I soon realised it was only running train (grrrrrrr), which is stupid to me because there's plenty of people in the park, it's just reopened so people will be itching to ride it more than ever, and these rides are very popular! There was a second train chilling on the adjacent station and another in the maintenance, but nothing more needs saying. I actually got in within about 20 minutes or so since I got ahead of most people, but in principle it still irritated me. I was interested to ride the original Superman flyer ride (I've learnt from a conversation with
@TilenB
that calling it the original clone is problematic
). I really like flying coasters; even when they're not Tatsu, I still find them very enjoyable and solid coasters with a nice feel to them. This Superman was obviously set to the terrain of the location, and has a bit more interaction with scenery I guess. It's not a lot better than the ones at SFGAm and SFGAdv but it's worth a little more spotlight I suppose.
I was starting to feel a little bit better now, having only 5 creds to go rather than 7, but it looked like the rain was gonna make a grand return, and since I knew there were forecasted showers later that evening, I assumed maybe they were coming now and I best rush over to
Blue Hawk
and again postpone food. There was only a couple train wait for my row (second from the back), and this was lucky, since this time I was not "spited" at the last second, but was on the last train before they ceased operation pending an apparently oncoming storm. But hurray, I got the cred this time! And again, surprisingly good. Back when this was Ninja it had a pretty dismal reputation (ala Gouderix at Parc Asterix), but with some very effective track re-profiling and new Vekoma trains, this was a good, solid, traditional looper with quite a forceful layout and nice location over the lake. It felt weird to enjoy an older Vekoma this much. If only Gouderix came out as well after it's retracking...
So yeah, all the coasters were presumed shut for now with the warning of the storm, so we decided to finally get some food and trail through a bit of the park we hadn't seen yet to inspect the operational status of the rapids ride (it still wasn't raining, so why not?). It was still running, yayyy. Something to do while all the coasters are down, and I do love water rides.
Thunder Rapids
is a classic American rapids ride: big boats, big waves, big wetness. Although, I actually didn't get it too bad this time. A couple of the waves were humongous though.
I think after the rapids ride we found ourselves in the Dare Devil Dive / Goliath area of the park we had been in during what felt like another day now. There hadn't been any more rain, let alone a storm, so thankfully it wasn't long before I saw Goliath cresting its lift-hill which massively uplifted my mood, as well noticing the sky starting to get more blue and less grey. So they closed the rides for nothing this time? Yes, but I was just happy the rest of the coasters were back in the game as I was starting to worry I would miss the last 4. For information, there were no more weather burdens for the rest of the evening (I think it was like 17.30-18.00 at this point?) and I felt deserving since I think I had more than my fair share of a "six flags day." So, over to Gotham City!
I decided to do
Batman The Ride
first here, just because it was first in this area on my original route plan. It's been a while since I've so excitedly walked through a Batman queue and I kept waiting to hit the back of the line...... but it never came! I was basically straight on in the back row with a group of 3. And this coaster was running two trains, wahoo. It just makes everything so much quicker. It was a great Batman clone, you've all heard the spiel loads of times no matter which version is being discussed, but despite this being my ninth one (I think) I still get a great kick out of them. My third favourite coaster in the park. It's up there with the ones at SFGAm, SFOT and SFMM, basically the cream of the crop in my opinion, and very very little separates them.
Didn't take a photo of Mind Bender so here is one from Wikipedia. Credit: hagerman
Cred #9 at the park (just across from Batman) was
Mind Bender
, a very well-loved Schwarzkopf. I'm always a little suspicious of them since I think a lot of nostalgia influences their overall reputation (which is totally fair), but I'm not that nostalgic about them, other than I always think they look cool and I love the classic train aesthetic. However, Mindbender did seem quite substantial, and I enjoyed its brother over in SFOT quite a bit actually, so I was hopeful. And yeah, it was pretty good: intense loops of course, fairly nice setting, certainly puts Magic Mountain's Revolution to shame. I think the rest of the layout was quite decent. SFOG seems to have an usually good selection of more traditional looping coasters. Is it my favourite Schwarzkopf? It's certainly up there.
Time to leave Gotham then, at which point the hilly nature of the park was taking its toll on all of us I think. Still, we trecked over to the front of the park to see about Georgia Scorcher, but that was closed at that moment. They seemed to be cleaning the trains, maybe someone threw up? The entrance op acted pretty cluelessly but I had no reason to think it wouldn't reopen later. So the other cred I needed to get was
Dahlonega Mine Train
, and that wasn't far past Wicked Cyclone (Twisted, ffs, I'm sick of these names). I always planned to leave this one till last since they never seem to get much of a queue at big American parks and they tend to do well capacity-wise. Ooof, this one was brutal. Such poor tracking lol. I still like these rides in a weird sort of way. I like their length and all the mini lift-hills, those are part of the charm
Dahlonega Mine Train - Credit: http://www.coasterimage.com/ (2005)
I had been eyeing up
Acrophobia
when I passed it on the way to the mine train. And there was no queue so why not? A great drop tower, I like these stand-up/tilt/gyro ones, they're more thrilling than average even for a more experienced drop tower rider. Though I did find it easier to brace for the uncomfortable landing on the one at Movie Park Germany, not quite sure why.
As I walked back to Cyclone Bay (I think that's two park areas I've remembered actually? +2) I couldn't resist giving Twisted Cyclone another go. There'll be time for Scorcher when it opens yah. I met back up with my parents at this point (they had fallen behind at some point) and my Dad joined for TC again. I was expecting a sizeable queue but it was actually nearly half the length of my second ride, a fact I was totally in awe of. I mean, it had only been open for like two weeks? How is the queue so short? Maybe people went home after all the storm warning faff. Anyway, it still seemed to take a while, because of the issues I mentioned earlier. But wow! What an amazing ride <3 Totally a top 20 coaster for me. I secretly didn't believe it would warm up much but I was fooled again. Marvellous. I'd also like to note something I noticed when I rewatched the original animated POV. There are a few very slight but vital differences between that POV and how the ride actually is. For example, the airtime coming in and out of the mid-ride standard overbank element are proper airtime hills, not just up onto a flat gradient / down from the flat gradient. This absolutely takes the airtime to the next level. Apart from that it seemed like the real coaster might have an extra small hill or two, but don't quote me on this for certainty. I sort of understand now why I expected it to be one of the weaker RMCs, when in fact it certainly isn't. Those little things make a big difference.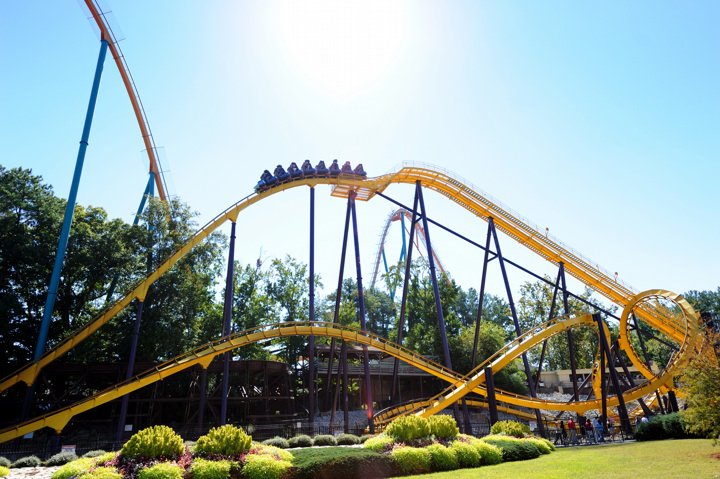 Georgia Scorcher - Credit: https://www.sixflags.com/overgeorgia/attractions/georgia-scorcher
Back round to
Georgia Scorcher
then, the final cred of the day, and it was back open.... to some horrendous operations. Good lord. I think one of the dispatches took 10 minutes. I blame both the staff for being crappy and the guests for messing around in the "seats", though I guess it's not the simplest train system either. Well, it's been a long time since I've ridden a new B&M stand-up coaster, or any one at all (Green Lantern in 2014); they're a dying breed for sure. People always seemed quite positive about this one though, which I never really understood. It looks on the face of it no better than the Vortex ones, though I guess I never dug that deep because actually, the layout is subtly genius. I've never known a coaster do so little but have such a range of forces. Even though there are only two inversions, it feels quite long and lively, compared to what you'd expect. Sadly, I got in an awkward position when the restraints locked (I usually try to bend my knees a little more), so some parts of the ride were uncomfortable, which did take the edge off the enjoyment factor.
Huzzah! Finally I've done all the creds; was such a relief after a roller coaster of a day (maybe SF offers this to its guests a little too heavy-handedly). Now I can finally ride the old-school Arrow log flume (FYI - I love log flumes <3). It did not disappoint. It has a fast, choppy channel that feels so reminiscent of an old-favourite, Log Jammer (used to be at SFMM), and that just really made me smile. Sure, many of these older Arrow flumes only have one proper drop and not a big one at that, but I just love how much choppier and more exciting the channels are, it's just so old-school. Most coaster enthusiasts probably don't care, which I understand, but log flumes have always been a favourite of mine, and be warned, I won't hold back about them during these reports
Oh, and it was called
Log Jamboree.
I'm a bit OCD about including the real names.
Right then, didn't do any more new rides that day. I did however return to Goliath for an extra two laps, where I decided I preferred the back to the front in this case (I'm quite evenly split about this when it comes to B&M Hypers). I guess I felt the airtime was stronger at the back in the end. The back row ride this time felt considerably more powerful than the front. So that's 4 laps on Goliath which in the end I was pretty damn happy with, and before we left the park I did a 4th lap on TC too. You know what I thought by now, but this was the best lap.
Overall thoughts then:
- Despite all the crap they put you through sometimes, I do love the atmosphere of an SF park. There's something magical about it, not to say it's something different from other big American parks, but nevertheless, despite some irritating flaws, the better ones just feel great and SFOG is one of them.
- I'd place SFOG as my third favourite SF park behind Magic Mountain and Over Texas. It's retained quite a bit of charm (not as much as Over Texas, mind), it has two fantastic headlining coasters and a surprisingly strong selection of supporting coasters. I would not consider any coaster there "bad" and several are "good" rather than simply "meh". That's quite an achievement for a cred-heavy park I think. The park is well-shaded and as such has some nice green areas, but obviously don't expect too much lush, it's still six flags
- I won't moan too much about the slowness of the staff, but I thought it was bad how many of them clearly saw people messing around with their phones out when the ride was about to go and didn't do anything about it. These types of parks have lots of questionable rules that they enforce to the max, having unsecured heavy objects like phones out on the ride is actually an important rule that needs to be enforced.
- It felt like different parts of the parks were almost under different management. Goliath, Twisted Cyclone, Mind Bender, Mine Train and Batman were all running two trains, but Superman, Blue Hawk and GASM (which are the same area of the park) all ran one. It didn't seem like this part of the park was less busy at all, so it didn't make sense to me. Why so inconsistent? Could've just been coincidence I suppose that they were all in the same area.
- I don't recall any seat-assignment, which as it continues to become more common across parks, is something to appreciate.
- Umm... besides the struggle, I had a great day in the end. We are planning to return to the park before we fly home actually for a few hours, so hopefully I can do some re-rides and maybe get on Monsters Mansion and Justice League which I didn't manage this visit. I'll add a little bonus post to the end of this thread if there's anything more interesting to say about the park/rides then.
Thanks for reading